10 of the Best Subliminal Disses of 2017 So Far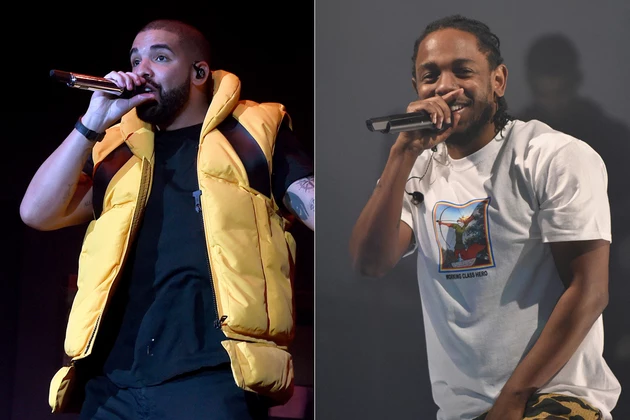 The year may be young, with only a few months since the calendar flipped over, but the rap game has been quit abuzz. Aside from the usual album releases, rumors and social media fodder keeping the news cycle in motion, there have also been a palpable amount of tension in play thus far, with more than a few rappers clearing the air and speaking their peace.
In a genre and culture birthed in the streets, aggression has always come with the territory, causing for an in-your-face attitude and and a sense of survival of the fittest. There's a tried-and-true saying that all is fair in love and war, and in rap, that sentiment is just short of a commandment where lyrical pugilism is par for the course.
While blatant diss tracks get most of the headlines and attention, subliminal disses have long been in play and have often been the catalyst that leads to many of the more epic take-downs in rap history. Following the showdown between Drake and Meek Mill, it appears that thinly-veiled jabs have been thrown at an increasing rate, with many of rap's biggest names joining in on the fun. The result has been some of the more analyzed lyrics to be spat in 2017, with the fans doing the legwork and predicting what the next great rap beef shall be.
When DJ Khaled dropped his new song "Shining" featuring Beyonce and Jay Z in February, fans attempted to pinpoint who Hov was going at on the track. Jay has kept quiet about who he was directing his lyrics at, leaving rap fans in the dark on this subliminal.
XXL dug deep and put together a list of a few of the more scathing subliminal disses of 2017 that had raps fans making use of their investigative skills and deciphering who was the target in question. From tracks by Drake to Kendrick Lamar and more, check them out below.
"Shining
DJ Khaled Featuring Beyonce & Jay Z
"I shouldn't even worry, backward niggas/12 solo albums, all platinum, nigga/I know you ain't out here talkin' numbers, right?/I know you ain't out here talkin' summers, right?/I know you ain't walkin' 'round talkin' down/Sayin' boss shit when you a runner, right?" – Jay Z
"All you did was write the book on garbage-ass Rollies/Ego strokin', picture postin'/Claimin' that you'd do it for motivational purposes only/But you just had to show me/See, I know, 'cause I study you closely/I know when someone lyin'/I notice people standin' for nothin' and gettin' tired"
"Make Love"
Gucci Mane Featuring Nicki Minaj
"Your career gon' be with Anna Nicole, witcha dumbass face/She ain't eatin' but I swear she got some bum ass taste/Text her man like, 'Dawg, how that bum ass taste?'/Pay your rent! And stay in your bum ass place/Oooohhh, oh you the qu-e-e-the queen of this here?/One platinum plaque, album flopped, bitch, where? (bitch, where?)" – Nicki Minaj
"My fans can't wait for me to son ya punk-ass and crush ya whole lil' shit/I'll Big Pun ya punk-ass, you a scared lil' bitch/Tiptoein' around my name, nigga, you lame/And when I get at you, homie/Don't you just tell me you was just playin'/Shut the fuck up, you sound like the last nigga I know/Might end up like the last nigga I know/Oh, you don't wanna clash? Nigga, I know"
"Coming Out Strong"
Future Featuring The Weeknd
"My brother Casino said you wasn't Freebandz/And at the time I couldn't see what he was sayin'/You turned your back, I shouldn't have ever gave you a chance/I got four lawyer fees, shit ain't ever end" – Future
"The rest of these niggas is still pretenders/None of these rappers done go to your funeral/I think they forgot what you used to do for them/Remember them shots, we used to shoot for them/You popped a lot, but you used to root for them" – Ralo
"No Favors"
Big Sean Featuring Eminem
"Tell 'em point and shoot like camera crews, in front of cameras too (Brrr!)/Damn, Sean, what happened to the humble attitude?/I'm like, Niggas took the flow, but I'm still standin' too/Thought I had the Midas touch, and then I went platinum too/Muthafuck all your comparisons/I've been talkin' to god like that's my therapist" – Big Sean
"I be taking guns out the hands of suckers/Ankle bracelet on me man this shit ain't justice/Bullet holes in me but I'm physically painless/Don't come around me if you ain't with it, I'm dangerous"
"And I pray I never dress like y'all/Only bird on my shirt is when I press that raw/It's umbrellas on my sweater for bitches thats under weather/Blowin' kisses at the cheddar when I test that jaw"
"Hol' up let's get it/.40 with 50 clip shoot like a missile/I'ma kidnap you I swear they won't miss you, Issues/I'm in the trap cookin' dope with a pistol/Try to attack him gon' rip through your tissue"
Source:
10 of the Best Subliminal Disses of 2017 So Far