Everything You Need to Know About Miley Cyrus' New Album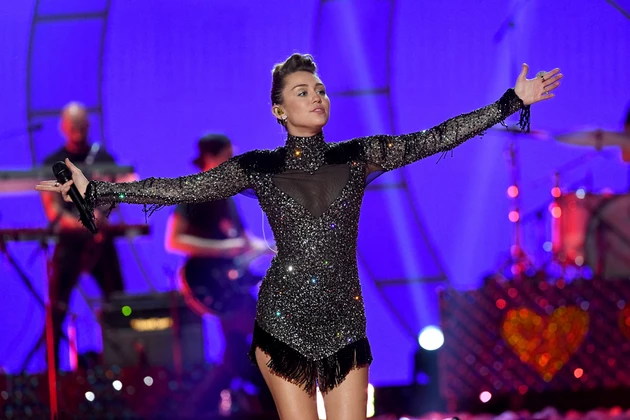 We've seen artists reinvent themselves time and time again. But in recent years, we haven't seen it done so drastically as Miley Cyrus. Whether it's her sweet and bright-eyed years on Disney Channel's Hannah Montana or her trippy, psychedelic 2015 album, Miley Cyrus & Her Dead Petz, it's safe to say that Miley has had a quite a few phases—and she's only 24! And now the pop star is back with the next evolution of her music and life.
On Younger Now, Miley "went back to her roots": The new album, which drops on Friday (September 29), sheds all the urban beats, braids and barely-there outfits for a sonic throwback tribute to the classic sounds of country yore, with a modern, personal twist.
Subscribe to K-Fox 95.5 on
In an interview with Billboard back in May, a marijuana-free Miley spoke about how the then-untitled album was going to be a non-preachy political record.
"I have to ask myself, 'How am I going to create real change?' And not just ­f—ing preach to the choir anymore," she told the magazine. "This record is a reflection of the fact that yes, I don't give a f—, but right now is not a time to not give a f— about people. I'm ­giving the world a hug and saying, 'Hey, look. We're good — I love you.' And I hope you can say you love me back."
Here's everything else we know about Miley's upcoming album.
This is no Bangerz.
From her country ballad, "Malibu," to the rockabilly pop rock of "Younger Now," Miley pulled a 180 and made a record that you can now listen to with your parents.
She's been sharing song snippets on Instagram.
As the days inch closer to the release of Younger Now, she's been sharing clips of the record on her Instagram feed.
She wrote every song on Younger Now.
When she visited The Ellen Show, Miley explained that this one is a very special album to her. "I had a lot of butterflies performing 'Malibu,' 'Inspired,' 'Younger Now' because it's the first time where… it's really like publishing your diary where you let everyone in. So I've always written my songs but always had collaborators bouncing back and forth on ideas. And this time it's just saying, 'Hey, here's exactly what I think and feel about what I go through.'"
Her godmother, Dolly Parton, is the only co-writer and feature.
Younger Now has eleven songs, and Dolly Parton collaborated with Miley on the third track, "Rainbowland." The song was inspired by her home studio where she put together the ideas for the new album. "So it's saying if all of us are so different and we all look so different and different shades of humanity, what a rainbow we could really be and live in that land and celebrate it," she told Ellen Degeneres in an interview.
She performed new material at the iHeartRadio Music Festival.
Less than a week until #YoungerNow is OUT EVERYWHERE!!!! Pre-Order puhlease!!!! 9/29 in stores and on all digital platforms!!!!!! ❤️ pic.twitter.com/cmo6cIWUye

— Miley Ray Cyrus (@MileyCyrus) September 24, 2017
Over the weekend, Miley shared some of her new tracks at the iHeartRadio Music Festival, including "Week Without You," which you can watch above.
Subscribe to K-Fox 95.5 on
She wrote "Inspired" for Hillary Clinton.
Although she eventually showed support for Bernie Sanders during the 2016 U.S. Presidential Election, Miley was an early supporter for Democratic candidate Hillary Clinton and was one of her big campaigners. She told NPR, "I was sitting in this line of really crazy traffic, and then I realized that I was in the middle of a funeral line. And I was behind a hearse, and all these people — I was looking into their cars, they just looked so devastated and so sad. And because I was sitting, I could really see them in their faces, and it just started making me think about life, made me think about my dad, and made me think about my mom, and all the things that really matter. And thinking about how much I have always loved nature; [the song] talks about the bees, and how there might be a day where we won't have bees or blue skies or clear water or fish in the sea because of the way we abuse the planet."
"Miss You So Much" is about a friend's boyfriend who died from an overdose.
"I wrote that song about how…once someone's gone, they're not really gone," she told NPR. "If you love them, they're here."
"Younger Now" talks about not having to prove yourself to anyone else and being whoever you want to be.
She told NPR, "I think when you are a teenager, young adult, you're trying so hard to be cool or to prove something or to be something away from who you've been as a kid. And I guess as I've gotten older — what Younger Now says is, even though it's not who I am, I'm not afraid of who I used to be."
Subscribe to K-Fox 95.5 on
Miley replaced the nude latex and crazy accessories for neon rockabilly style.
"I think I show people that they can be themselves," Cyrus revealed to Harper's Bazaar. "I also think something that has been important for me, in this next little, like, transition phase of my career is that I don't give a f— about being cool. I just want to be myself."
She likes to keep everyone on their toes.
"I'm doing what I need to do. I'm working in my community. I'm changing the way people view sexuality. I'm working with suicide prevention programs," Miley told NPR. "I'm feeding people that don't have food to eat. I'm doing my part as a human. You better go do your part if you're gonna even have one little opinion about what I do. You better be doing some great things for your community."
Miley Cyrus' Most Outrageous Looks:

Source:
Everything You Need to Know About Miley Cyrus' New Album