Selena Gomez's 'Bad Liar' Borrows From the Talking Heads: Listen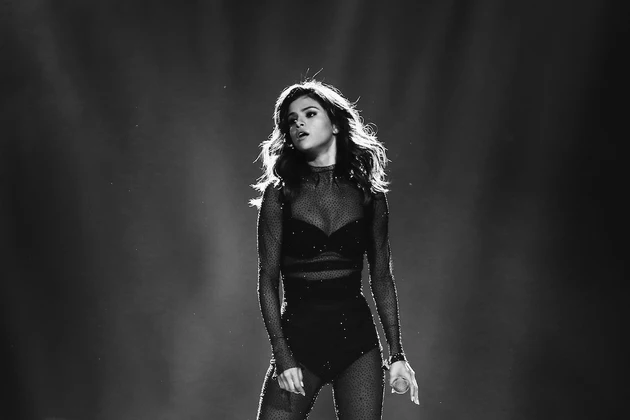 UPDATE: It's here—and no, we ain't lyin'! Listen to Selena's "Bad Liar," below:
Subscribe to K-Fox 95.5 on
"Burning Down the House" troupe The Talking Heads, born of the New York City punk scene, pioneered the New Wave movement with their music throughout the '70s and '80s. Selena Gomez once starred on The Disney Channel's Wizards of Waverly Place and fronted a band called The Scene. It seems inevitable, then, that the two kindred musical spirits would finally cross paths.
With her latest single, "Bad Liar," just a day away from hitting our ears, the "Rock God" chanteuse — who's been angrily scrawling lyrics all over her mirror in lipstick, RuPaul's Drag Race style, this week — is now teasing the full lyrics for her upcoming Ian Kirkpatrick-produced (Britney Spears, Hilary Duff) bop on Genius.
And, according to the lyric site's preview review of the song, which was co-penned by her Revival songwriting team Justin Tranter and Julia Michaels, "Bad Liar" interpolates the Talking Heads' 1977 debut, "Psycho Killer."
As with her unreleased Revival jealousy jam "Feel Me," Selena's seemingly deep in her feelings about an ex (can you hear the media scrambling to write their "IS THIS ABOUT JUSTIN BIEBER?" thinkpieces already?) — although this one's coming from a much lonelier place: "In my room there's a king size space / Bigger than it used to be / If you want you can rent that place / Call me an amenity."
Until "Bad Liar" drops, check out the full lyrics below, courtesy of Genius. And while you're at it, have a listen to The Talking Heads' "Psycho Killer."
Subscribe to K-Fox 95.5 on
"Bad Liar"
I was walking down the street the other day
Trying to distract myself
Then I see your face
Ooh, you got someone else
Trying to play it coy
Trying to make it disappear
But just like the battle of Troy
There's nothing subtle here
In my room there's a king size space
Bigger than it used to be
If you want you can rent that place
Call me an amenity
Even if it's in my dreams
Ooh you're taking all perfection out my mind
Ooooh every time I watch you serpentine
I'm trying
Not to think about you
No no no
Not to think about you
No no no
I'm trying
Not to give it to you
No no no
Not to give it to you
All my feelings on fire
Guess I'm a bad liar
I see how your attention builds
It's like looking in a mirror
Your touch like a happy pill
But still all we do is fear
What could possibly happen next
Can we focus on the love
Paint my kiss across your chest
Be the art, I'll be the brush
And oh baby let's make reality actuality a reality
Selena Gomez's Hottest Stage Looks:
Subscribe to K-Fox 95.5 on

Source:
Selena Gomez's 'Bad Liar' Borrows From the Talking Heads: Listen