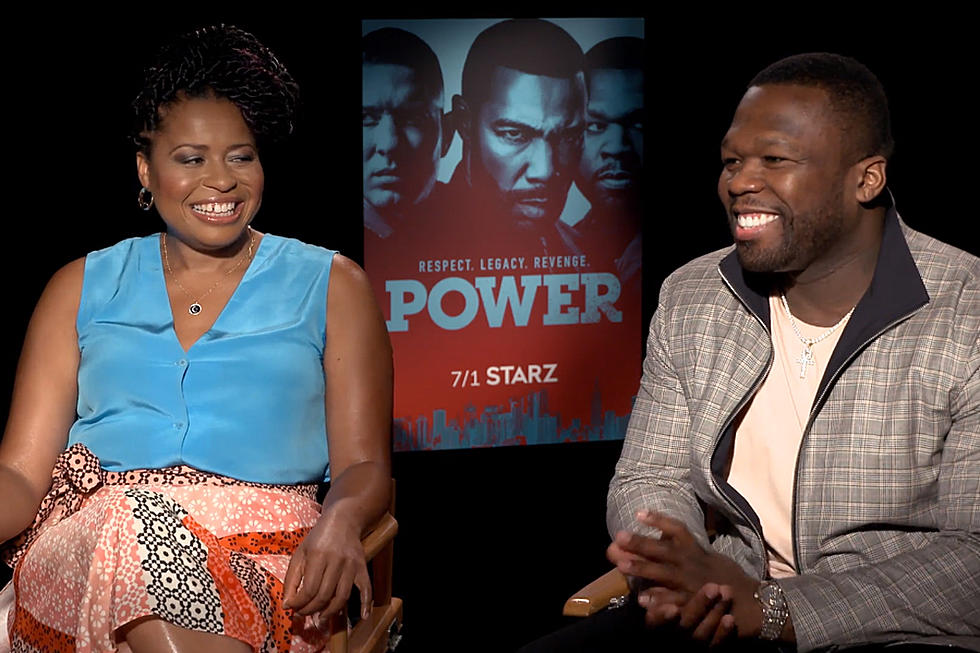 50 Cent's Character Is Put in a Position to Win in 'Power' Season Five
XXL
On Sun., Sept. 3, 2017, nearly two million Power viewers had their world rocked as they tried to grasp what had just transpired on their screens: Tariq fatally wounded his sister's murderer, his mother, Tasha, was in the midst of covering it up, and Ghost, Tommy and Kanan reunited to take on their latest enemy, Ghost's former protégé, Dre. Then, of course, throw Angela into the mix after she finds some compromising evidence, and you have a cliffhanger like none other, making it the highest-rated original cable show that day, according to The Nielsen Company.
It was a season finale that left many wondering what will unfold in the show's fifth season, which kicks off an entire year after season four began on June 25, 2017. One of the major questions that remains is how (and when) will James "Ghost" St. Patrick—played by Omari Hardwick—avenge his daughter's death? According to Hardwick, who spoke to XXL during a press junket earlier this month, the Ghost that fans have grown to love is "not as together as he usually is" this time around.
"This year he's definitely pulling from the trigger of emotion a little more than practicality and logic," Hardwick tells XXL. "He's unraveling, to say the least." Interestingly enough, the final episode of season four, aptly titled "You Can't Fix This," is a testament to Ghost's ability to handle any situations by all means, and the realization that, for the first time ever, he may not be able to solve everything being thrown at him. Fair enough, seeing that he's left to deal with Raina's murder, Dre's betrayal and both legal and political woes.
Pointing to Lela Loren, whose character Angela Valdez has had viewers up in arms throughout the past five years, Hardwick says, "Her character, ironically, this year is probably gonna become more liked and more heroic." Last season Angela shared an unexpected moment with Tasha, the mother of Ghost's children—played by actress Naturi Naughton—when she helped aid her in the search for her son. With both now implicated in Tariq's incident, Loren hints she'll be in some "serious illegal stuff" with her new title as Head of Criminal.
As for Dre—a serial manipulator with a huge target on his back—he may want to "get the strap." Rotimi Akinosho, who plays Dre, tells XXL, "He's taking charge of his own destiny, because everyone else was saying he can't do this and he needs to be here and he was just like 'No, I'm my own boss and I wanna express myself, so if you're not gonna rock with me then I gotta go over you.'"
Like seasons prior, Power new season is plagued with revenge, death and jaw-dropping scenes—it's what makes an average 9.3 million fans tune in each week. Still these questions remain: With a key witness from the show's debut episode making her way back onto the screen, will we finally see Ghost's biggest demise? Who becomes Ghost 2.0 first, Dre or Tariq? Will Tommy's newfound mob ties aide in his quest to take out?
While we don't have most of the answers as of yet, Power executive-producer Curtis "50 Cent" Jackson hints at his character, Kanan, being more involved in the life of Tommy (played by Joseph Sikora) this go-round.
"To me, he's not the sharpest knife in the drawer," 50 jokes. "He wants somebody to love him, wants somebody to be around him like that, so I'ma have to do that, maybe, after everything else is dealt with." Now back on the same team as his old comrades Ghost and Tommy, Kanan is ready to take the back the top spot, with 50 adding that Ghost's desire to exit the game is "almost aiding me in positioning myself the way I wanna be positioned."
Watch as XXL speaks with Power creator and co-executive producer Courtney Kemp, co-executive producer Curtis "50 Cent" Jackson, and actors Omari Hardwick, Naturi Naughton, Lela Loren, Joseph Sikora, Rotimi Akinosho and La La Anthony below.
Tune in on Sunday, July 1 on Starz to watch Power's season five premiere.
Rappers Who've Starred in a Television Series