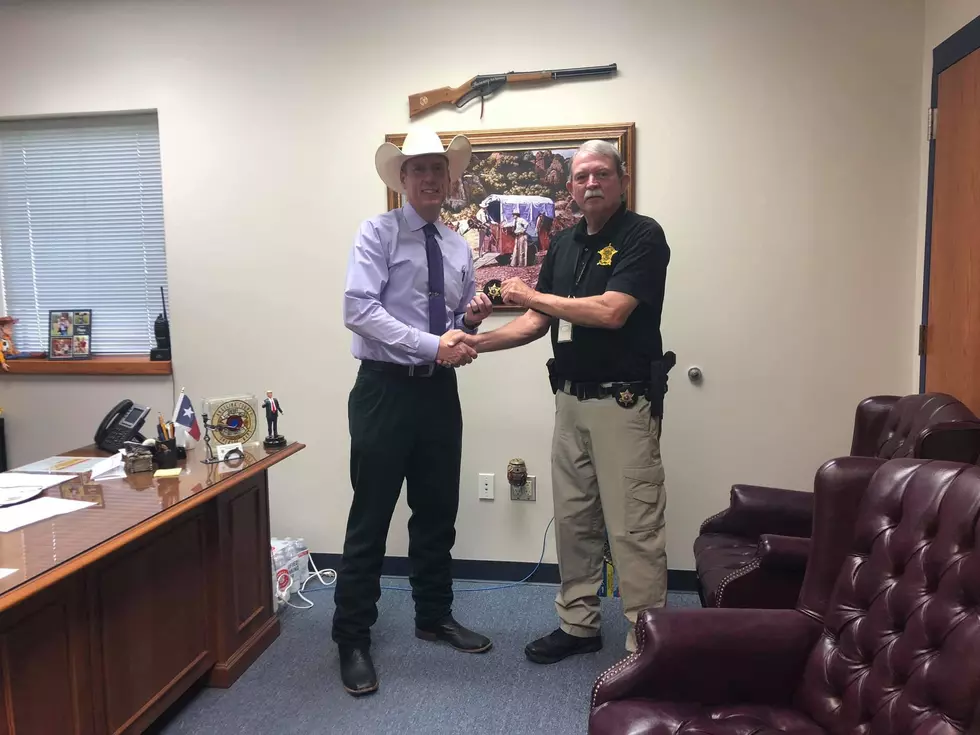 ACSO Swears In New Detective
Angelina County Sheriff's Office
Yesterday at the Angelina County Sheriff's office there was a quick swearing in. Ryan Martin was sworn in as a detective by Sheriff Greg Sanches. Martin was most recently working in Houston County. About an hour away from Lufkin, Houston counties seat is in Crockett.
The Angelina County Sheriff's office is located at 2311 E. Lufkin Ave in Lufkin Texas. Being an officer there encompasses many job duties They are responsible for maintaining the Angelina County Jail and the 220 inmates housed there.
Some inmates work in the garden on the ASCO property. They are having a bumper crop of okra right now. Inmates also do lawn maintenance for county properties like the farmers market, courthouse, and many more. They are also put to work on trash clean up on county roads.
The Angelina County Sheriff's office also investigate crimes and that is something Ryan Martin as a detective will certainly be tasked with. Making arrests, with a county wide jurisdiction. They just released their latest report.
ANGELINA COUNTY SHERIFF'S OFFICE
REPORTED INCIDENTS
Tuesday, August 18, 2020
Date Time Case # Offense/Call Type Location Arrest's
1 8/18/20 3:32 PM 20-02899 Arrest / Warrant Service SH 147 RAYMOND EARL HARPER, JR B/M 23, Agg Assault w/Deadly Weapon, F2.
2 8/18/20 5:46 AM 20-02900 Arrest / Criminal Trespass 3300 Blk Ted Trout Dr.
ANN MARIE WHITE W/F 38, Poss Drug Paraphernalia, MC, Theft Property, MB, Poss Control Substance, MB, No DL, MT, FMFR, MC & Poss or Del Drug Paraphernalia, MA.
3 8/18/20 10:51 AM 20-02902
Fail to Comply / Registered Sex Offender
3500 Blk US 69 N
4 8/18/20 10:52 AM 20-02903 Disturbance 200 Blk Briar Hill Rd
5 8/18/20 11:33 AM 20-02904 UUMV 2500 Blk US 69 N
6 8/18/20 12:09 PM 20-02905 Welfare Concern 100 Blk Ben Williams Rd
7 8/18/20 4:03 PM 20-02906 Suspicious Person 100 Blk Boardwalk Place
8 8/18/20 4:43 PM 20-02907 Illegal Dumping 1000 Blk Skipper Rd
9 8/18/20 6:55 PM 20-02908 Illegal Dumping Boonwood
10 8/18/20 6:57 PM 20-02909 Information FM 2109
11 8/18/20 8:14 PM 20-02910 Theft 200 Blk Caver Rd
12 8/18/20 8:30 PM 20-02911 Animal Complaint 200 Blk Alton Allen Lp
13 8/18/20 9:35 PM 20-02912 Missing Person 300 Blk Edwards Lp