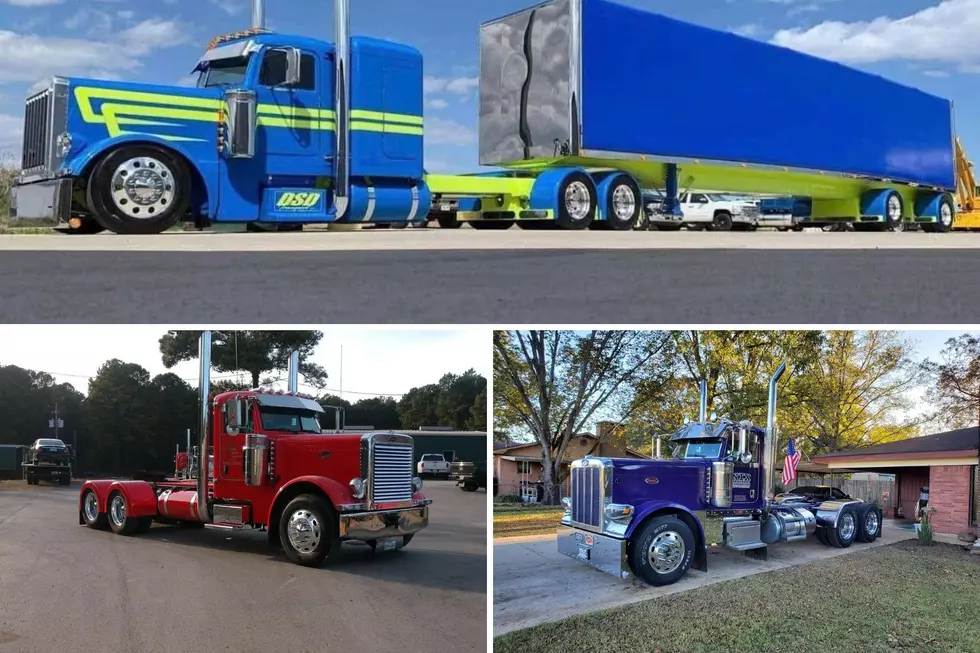 Big Rigs To Invade Downtown Nacogdoches, Texas
old town rig down via Facebook/Canva
While you have been busy enjoying our summer vacation, a group of dedicated big rig enthusiasts have been working to make the best big rig show in the country right here in historic downtown Nacogdoches. The Old Town Rig Down is coming September 16th - 17th, 2022.
This is the first annual big rig truck show coming to downtown Nacogdoches. Registration for the trucks started on March 10th, 2022 just to give you an idea of how long and hard they have been working to make this a huge show.
There are only 100 slots total. The event is brought to you by the Massey Rose Foundation, a non-profit organization. 100% of the proceeds are going to finish the restoration of the old University Building and the Boys and Girls Club of Nacogdoches.
When Are All These Awesome Big Rigs Coming Though Nacogdoches?
On Friday, September 16th from 8 am - 3 pm, the 100 or so trucks will be getting parked on the brick streets. Then all the vendors and food trucks will get situated.
Everything gets started at 5 pm Friday. There is a light show at 8 pm and at 8:30 pm live music starts in Festival Park and ends at 11 pm.
Saturday, September 18th, 2022 the event starts back up at 10 am. There will be a washer tournament on Church Street.
A live auction happens on the stage behind the CVB building at 3 pm, and then at 7 pm there will be an award ceremony on stage at the festival park. There is even more live music coming on Saturday night from 8:30 pm - 11 pm. Tony Justice, Joey Greer, and Steven Molanders are just some of the performers.
Big Trucks In Downtown Nacogdoches With The Old Town Rig Down
The trucks will not have trailers, so this is a 'bobtail' competition. So far there will be 80 or more trucks on display.
There are many logistical details on their website. Check out a sneak peek of a few of the trucks that will be at the show below.
Old Town Rig Down Comes To Nacogdoches, Texas
Big Rigs have never looked better. See a preview of some of the trucks that will be in downtown Nacogdoches, Texas on September 16th and 17th 2022.
Get Your Own Zip Line Amusement Park In Nacogdoches, Texas
Two stocked ponds, two main houses, and an entire zip line park could be all yours at this property in Nacogdoches, Texas
M3IS3D In Nacogdoches, Texas Makes Headphone Holder For Chuck Norris