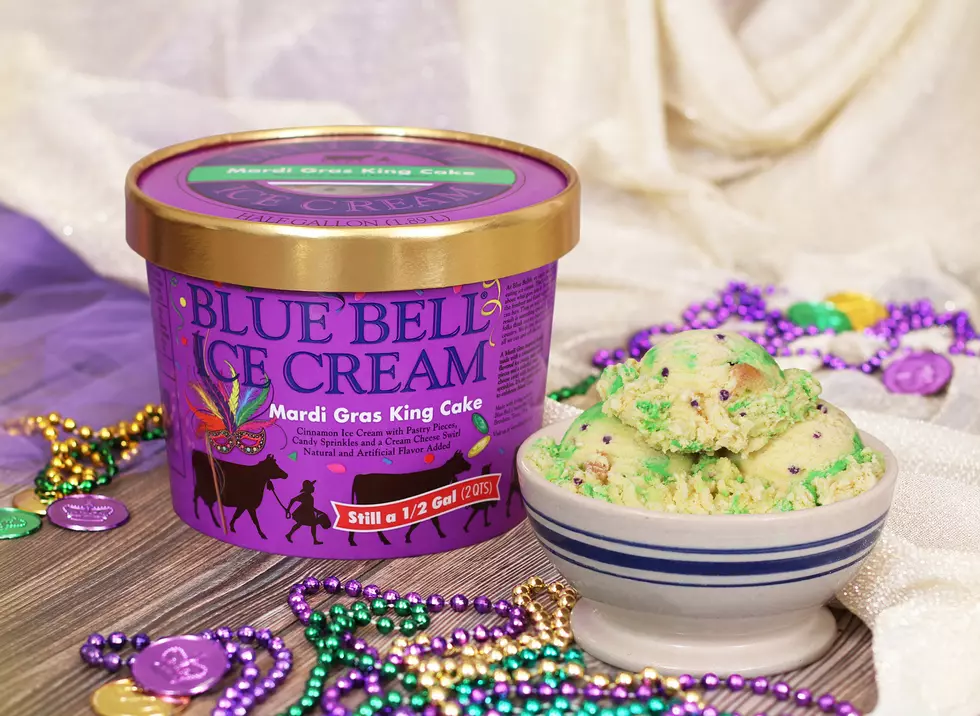 Blue Bell Brings Mardi Gras King Cake Back
Blue Bell
Walking through the ice cream section at the grocery store the other night, I saw a familiar sight, Blue Bell Ice Cream's Mardi Gras King Cake! This limited edition flavor is here for just a short time, just like Mardi Gras season!
If you see the purple half gallon container with the golden rim in your grocery stores freezer section you need to get your hands this addictive flavor because just as quickly as it arrives on store shelves it disappears.. Mardi Gras King Cake is a cinnamon cake flavored ice cream, with pastry pieces, cream cheese swirls and sprinkles. According to Blue Bell, Mardi Gras King Cake was born from two different previously released flavors: Mardi Gras, introduced in 2004, and King Cake, first produced in 2006.
What's interesting about this flavor is that when it was introduced last year, it was just a regional flavor that was sold in Louisiana, Alabama and a few select stores in East Texas. However, this year the flavor is being sold and distributed to all their merchants. Carl Breed, corporate sales manager for Blue Bell says,
Last year a grocery store in Louisiana posted about the flavor's arrival on its Facebook page and we started receiving requests from all over the country. After that, we decided to share this festive flavor with everyone in our distribution area."
When I saw this flavor stocked in the ice cream section at the grocery store the other night you know I picked up a couple of half gallons!
The only thing missing though is the little baby! Blue Bell needs to put some kind of edible little baby in each of the half gallons!