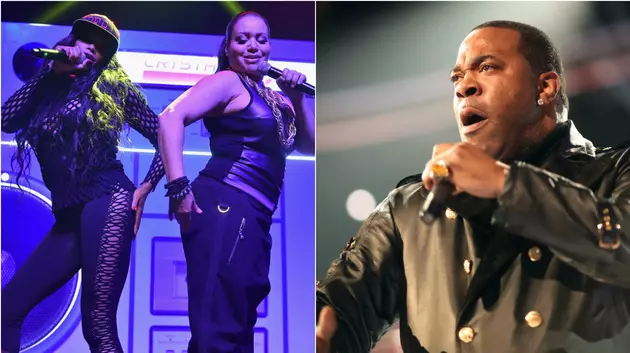 Busta Rhymes and Salt-N-Pepa Are Going on Tour
Theo Wargo/Christopher Polk, Getty Images (2)
Remember Crystal Pepsi? The throwback drink will be making its return to stores in August, and to celebrate the limited edition release, Pepsi will be hosting a Crystal Pepsi Throwback Tour featuring Busta Rhymes and Salt-N-Pepa.
The tour, also including Mark McGrath of Sugar Ray, will consist of three free concerts in the United States during baseball season. It kicks off in New York on Aug. 1 at Billy's Sports Bar in New York City where Busta Rhymes will perform. McGrath will perform on Aug. 11 at Chase Field in Phoenix. Ariz. Finally, Salt-N-Pepa will take the final performance at Marlins Park in Miami, Fla. on Aug. 13. The iconic group will throw the first pitch of the Miami Marlins and Colorado Rockets game that takes place that same day.
Both hip hop acts have been busy performing and working in the studio. Towards the end of last year, Busta Rhymes collaborated with Joell Ortiz and Hodgy for guest verses as well as linked up with Swizz Beats for his own single called "AAAHHHH!!!" Salt-N-Pepa performed at Alicia Keys' 2016 Black Ball and received a tribute at the 2016 VH1 Hip Hop Honors. The legendary trio is slated to appear on the 2018 Ship Hop Cruise where they will be performing along the likes of Coolio, Vanilla Ice, Blackstreet, All 4 One, Biz Markie, Color Me Badd, Kid n' Play, Sisqo, Tone Loc, Rob Base, Young MC, C+C Music Factory and DJ Kool.
Check out the list of tour dates and locations below.
Aug. 1 - New York City, N.Y. - Billy's Sports Bar
Aug. 11 - Phoenix, Ariz. - Chase Field
Aug. 13 - Miami, Fla. - Marlins Park
See 40 Hip-Hop Albums Turning 20 in 2017