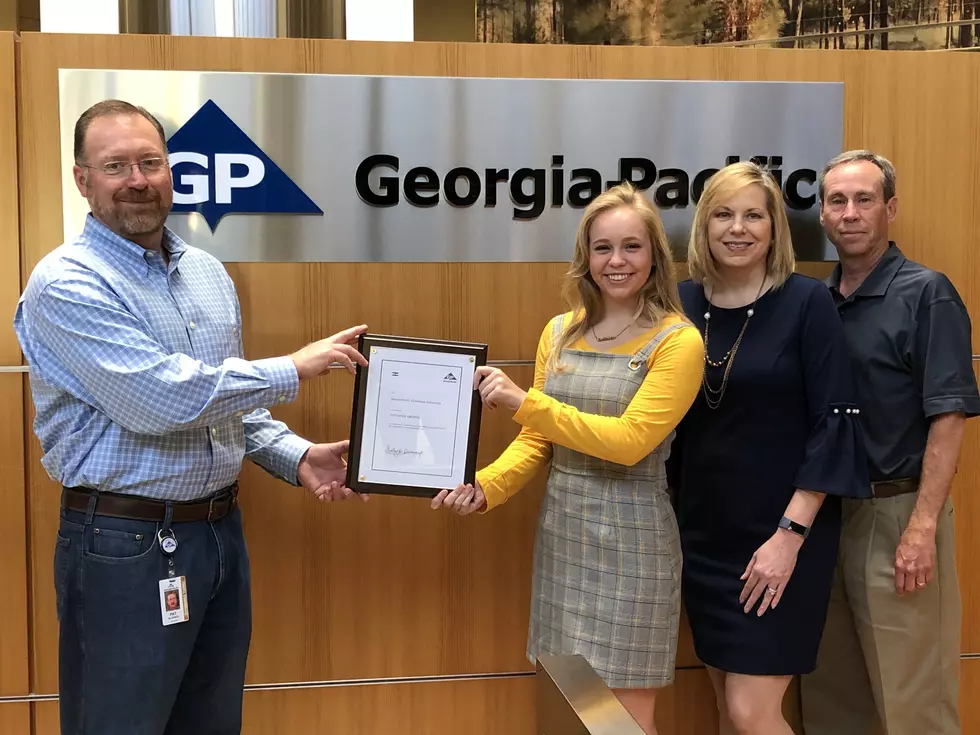 Georgia-Pacific Awards Scholarship to Hudson Graduate
Contributed Photo/GP
Autumn Greene, a graduating senior at Hudson ISD has been selected as a recipient of a Georgia-Pacific Foundation Employees' Children Scholarship. Georgia-Pacific awards 50 scholarships each year to the children of employees across the country. The scholarship awards $2,000 per year for up to four years of full-time college undergraduate study or until baccalaureate degree requirements are completed, whichever occurs first, for a total maximum award of $8,000.
Autumn Greene is the daughter of Mark and Michaelyn Greene.  Mark is an Information Technology Lead at Georgia-Pacific's Diboll Regional Office.  Picture aboved are Georgia-Pacific's Vice President and General Manager of Composite Panels, Pat Aldred (far left), Autumn Greene, and her parents.
Autumn has hopes of attending the University of Texas in the Fall and majoring in Classical Studies.
"The COVID-19 shutdown has cost these young people a huge part of their educational experience," said Curley M. Dossman, Jr., president of the Georgia-Pacific Foundation. "It is vital that we continue to support their academic success and remind them that their futures remain bright."
Since the scholarship program began in 1988, Georgia-Pacific has awarded nearly 1,600 scholarships totaling nearly $13 million. The program is administered by the National Merit Scholarship Corporation and is open to children of all active, full-time, U.S.-based employees of Georgia-Pacific. About 300 applications were received this year.
Enter your number to get our free mobile app