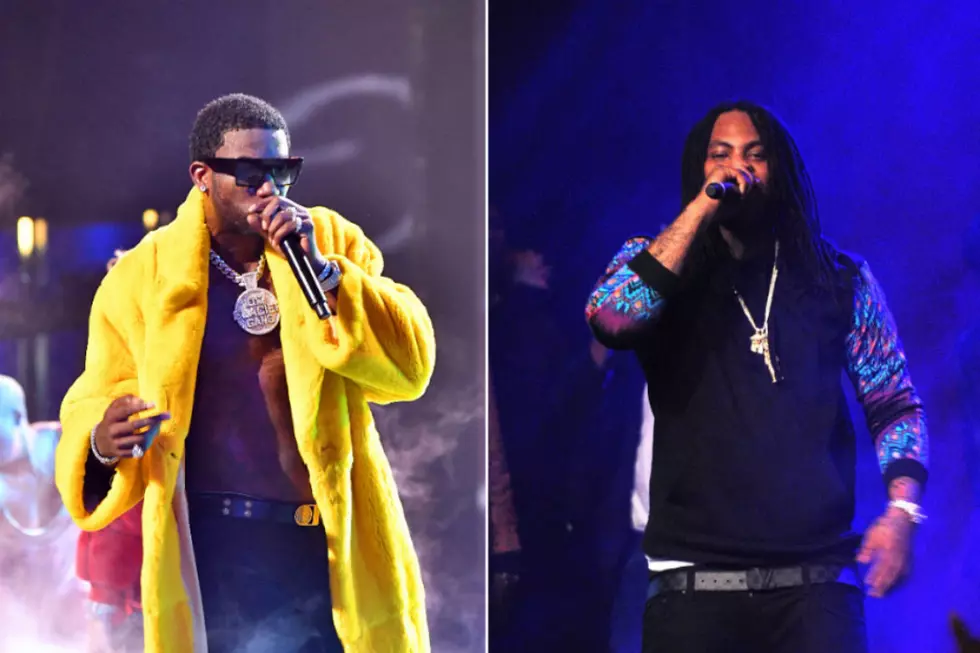 A History of Gucci Mane and Waka Flocka Flame's Beef
Paras Griffin / Bryan Bedder, Getty Images (2)
"A thug changes and love changes. And best friends become strangers, word up." —Nas
At one point in time, Gucci Mane and Waka Flocka Flame were as thick as thieves. The two were the Batman and Robin of the Atlanta trap rap scene, with Waka being the flagship act on Guwop's 1017 Brick Squad Records. They were the artists that critics loved to hate, and they embraced the role while helping to shape the current sound of the South and rap music as a whole. But along the way, things turned left.
It's a story we've seen play out numerous times in hip-hop. Rappers come into the game as homies and eventually end up wanting to slap the taste out of each other's mouths. With Gucci and Waka, the feud's origins appear to be deeper than rap.
Publicly, Gucci was clearly in the wrong. There were signs of a rift earlier, but his mind-boggling actions throughout 2013—when he was admittedly battling heavy drug addiction and lashed out at everyone close to him by way of lawsuits and scandalous Twitter allegations—seemed to be the coup de grace.
Gucci Mane went to prison in May 2014 and emerged after spending two years in a United States Penitentiary in Terre Haute, Ind. a changed man. Denouncing his former bad decisions, he appeared to rebuild bridges that were burned with several artists he'd wronged. But neither he or Waka have shown the need to extend an olive branch.
"I wish [Waka] well," Gucci told Funkmaster Flex in 2016. "I'm just trying to keep focused on what I got going. I can't be thinking about that. I can't trip forward looking back."
Waka has echoed the same sentiment in recent years (sans the well wishes), and fans hoping for a reunion have all but given up hope. That is until recently when Waka revealed that he'd sincerely be game to squash his beef with his former big homie after all of these years.
With old wounds finally seeming to be scabbed over, XXL takes a look back in the past and chronicles Gucci and Waka's turbulent times.