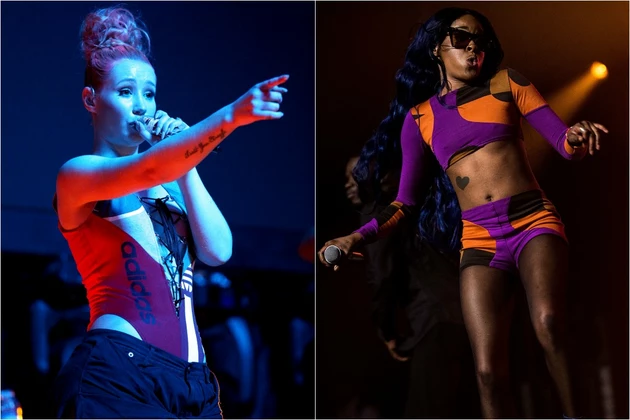 Iggy Azalea Will Collaborate With Azealia Banks on 'Digital Distortion' Album
Phillip Faraone / Cassandra Hannagan, Getty Images (2)
After their fiery exchanges over the years, who had any idea that Iggy Azalea and Azealia Banks would one day appear on the same track? That appears to be the case as Iggy has announced that Banks will appear on her new LP, Digital Distortion.
The two have issues that date back to 2011, but the olive branch extending started a couple weeks ago, when they opened up about the possibility of reconciliation on social media. Afterward, XXL spoke with Banks who sounded optimistic about the two being able to settle their differences. "I think a true reconciliation can happen once there is some acknowledgment of what hip-hop has been trying to tell her. I still don't think she quite understands the effect her racial privilege and the socio-economic leverage that comes with it has on a marginalized group of women's culture," Azealia said. "Race aside, this is also a women's issue. I hope that there will be a chance for us to have an open discussion about this, as I feel America and the world could really benefit from some candid discourse between two public figures about the world's biggest sickness: racism. I wish for women of the future to be able to refer to this moment in women's culture as an example of what can happen when people take time to understand."
Now it appears all is good and a joint song is imminent. "Public service announcement. Azealia Banks is going to be on DD," Iggy wrote on Snapchap. "We are collaborating. Burn your wigs now or preserve them in your freezer for release day."
Naturally, many of her fans wondered how she could join forces with Banks since the two have such a vile past. Iggy addressed that on social media. "I don't expect you guys to understand why i would collaborate with someone who has publicly said they hope I die," she wrote on Twitter.
"This has been something extremely negative for so long, if there is a way to make it positive and also be creative together, I'm here for it," she added.
Check out the tweets below.
See Fans' Predictions for the Hip-Hop Songs That Will Rule Summer 2017