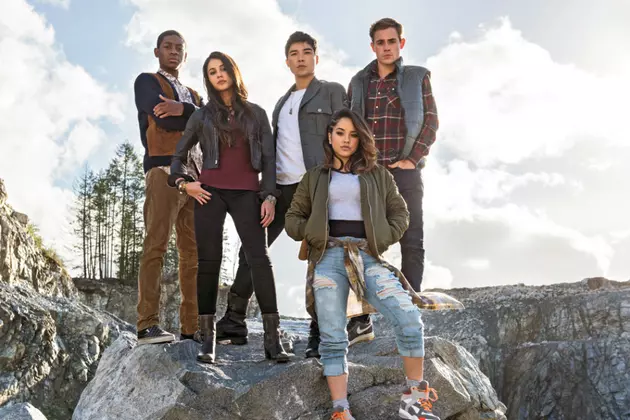 The New 'Power Rangers' Boasts Cinema's First Queer Superhero
Lionsgate / Entertainment Weekly
This past week, Beauty and the Beast raised quite a few public eyebrows (mostly in Malaysia) with its so-called "exclusively gay moment," in which Josh Gad's LeFou fleetingly reveals that he like-likes Gaston. While this was not breaking news to any gaydar-equipped viewers of the 1991 original, it still made quite a splash online, with conservative voices objecting to the homosexual agenda imposed on innocent kids' entertainment and progressives leaning the other way, calling for a more meaningful expression of queer identity than a three-second glimpse of two men waltzing.
And with this week's release of the Power Rangers reboot, the exclusively gay moments have been coming fast and furious. (Whether the upcoming eighth installment of the Fast and Furious franchise will feature an exclusively gay moment has yet to be seen.) Early reviews have remarked upon one blink-and-you-miss-it line of dialogue that suggests Yellow Ranger Trini (portrayed by pop star-turned-actress Becky G) is figuring some stuff out about her budding queer sexuality. To be specific, one character asks her, "Boyfriend trouble?" to which she responds, "Actually, girlfriend problems." That's the complete enchilada, but director Dean Israelite has nonetheless described the moment to The Hollywood Reporter as "pivotal" for the character. The item quotes him as saying, "For Trini, really she's questioning a lot about who she is. She hasn't fully figured it out yet. I think what's great about that scene and what that scene propels for the rest of the movie is, 'That's OK.' The movie is saying, 'That's OK,' and all of the kids have to own who they are and find their tribe."
That's a bit much to ascribe to a single line of dialogue that lasts all of two seconds, but at least Israelite appears to be well-intentioned. Unless you'd like to take the more cynical approach and read the line as a perfunctory gesture meant to earn social brownie points without making any meaningful statement. But that's up to the viewer.