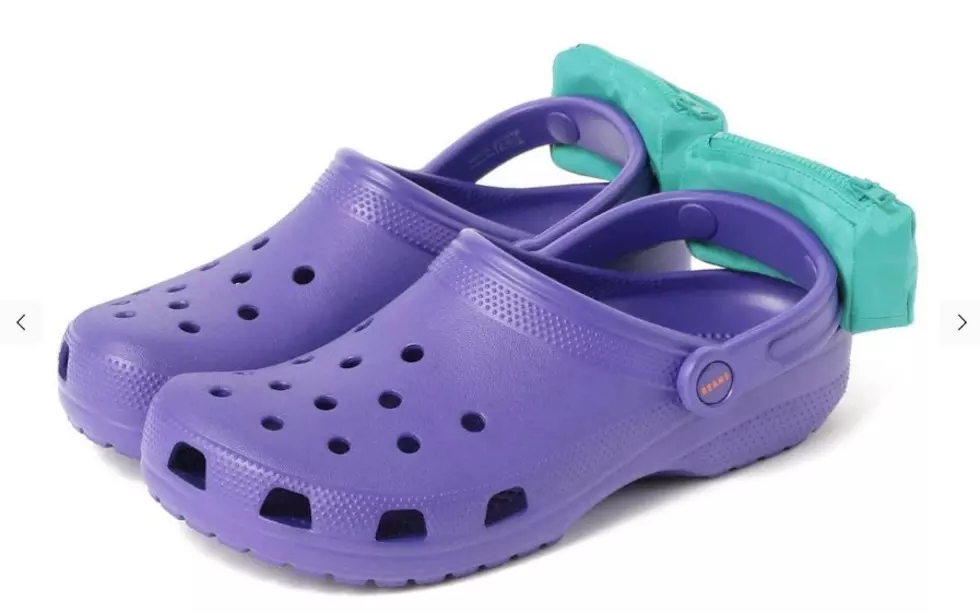 There Are Now Crocs with Tiny Fanny Packs Attached
Crocs/Beams
Attention all Crocs wearers. These are the Crocs that you didn't know you needed!
A company called Beams has teamed up with Crocs to create a special edition shoe that has tiny fanny packs attached to the strap.
Yes, there are literal fanny packs attached to these Crocs. You can get yourself a pair of these bad boys for $53 online (you might have to translate the website as it is Japanese). For now, they only come in green and purple.
It's no secret that I love my Crocs. Heck, I have been known to wear them to work a time or two.
I primarily use my Crocs when I am fishing or out on my kayak. Most of the people that I know who own a pair use them in the same fashion. Therefore, I have a couple of suggestions for Crocs and Beams, if they want to see a boost in sales of the "Fanny Pack Crocs".
Let's add some more color choices. I vote for a camo color scheme...since camo goes with anything, and that's the only color of Crocs that I wear.
Make the fanny pack water proof. This would be beneficial when you are out on the water. You can store some lures and other tackle in the fanny pack (especially if you don't have room in your pockets) and not have to worry about them getting wet.
That's it...if Crocs and Beams create that, you will have the perfect fishing/kayaking shoe, and I would have no problem wearing them. But, if that's not your speed, I suppose it would be nice if they had them in colors like blue, pink, or red.
Say what you will about Crocs, but they are super comfortable. Not to mention that fanny packs seem to be making a bit of a comeback. Just saying, they would make for a good investment on your beach vacation. Store some items in the fanny pack and walk along the sand on the beach. Have I sold you on these shoes yet?
Who do you know that would actually wear the Fanny Pack Crocs?