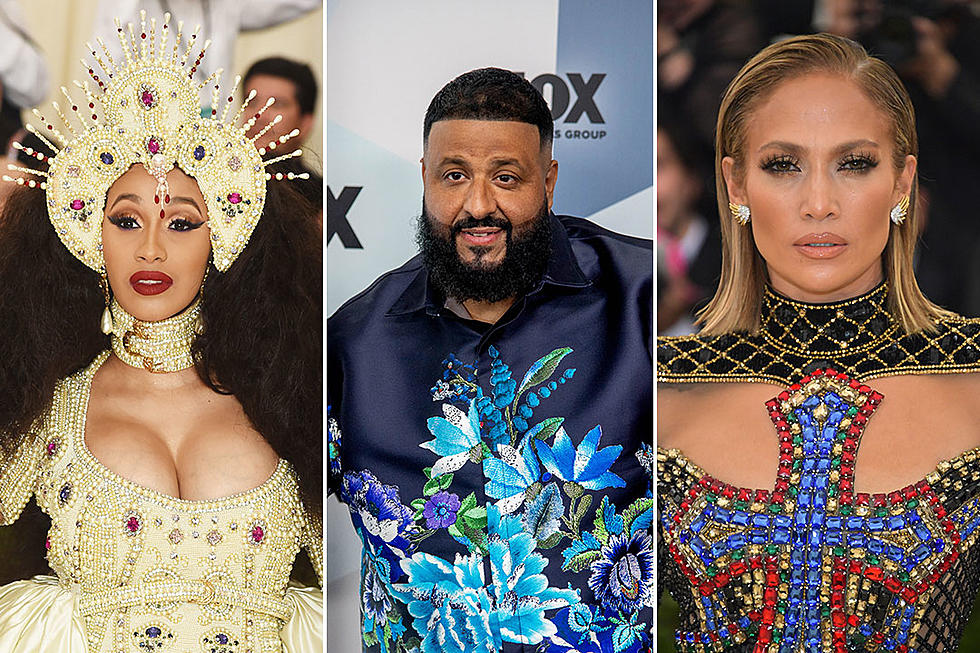 Cardi B and DJ Khaled Hop on Jennifer Lopez's New Single "Dinero"
Jamie McCarthy/Roy Rochlin/Neilson Barnard, Getty Images (3)
Differing generations hailing from The Bronx connect as Cardi B and Jennifer Lopez team up with DJ Khaled for J.Lo's new bilingual single "Dinero." The fiery anthem, produced by Khaled, arrived via Epic Records on Thursday (May 17).
The potential banger will be debuted at this weekend's Billboard Music Awards (May 20). Jenny From the Block opens the sizzling track by boasting about her and superstar baseball player boyfriend Alex Rodriguez's prosperous moneymaking ways—all amplified by Khaled ad-libs in the background. "Me and my man, we stack it up to the ceiling (more money)/Cállate la boca, let me finish (more money)/Every day I'm alive I make a killing (let's get it)/Yeah, I swear I'ma get it," she boldly states.
Cardi injects herself into the tune's third verse to play on the 48-year-old J.Lo's nickname and Bardi's rise from the strip club to global superstar. "Pull up in your spot/Put it in your head like give me what you got/Two bad bitches that came from the Bronx/Cardi from the pole and Jenny from the block," the 25-year-old rhymes.
Back in February, Lopez teased the idea of having a Cardi collaboration in the works during an interview with Latina.com. After revealing "Dinero" as the title, Lopez also spoke about the fact a coinciding visual will be released for the highly anticipated joint effort soon after.
See New Music Releases for May 2018