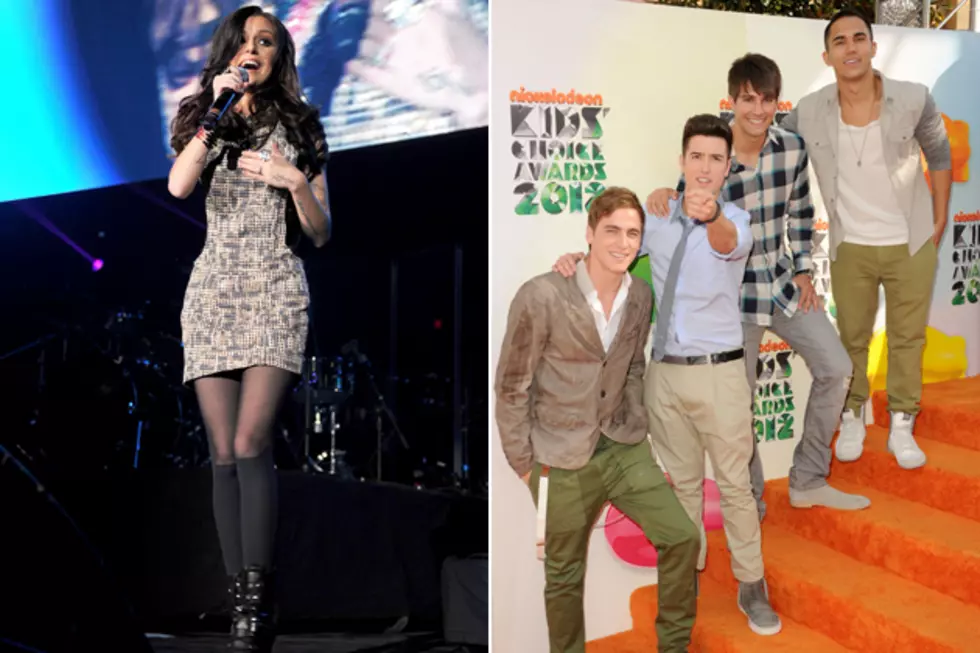 Cher Lloyd to Guest Star on Upcoming 'Big Time Rush' Episode
Theo Wargo / Jason Merritt, Getty Images
Brats and Rushers, unite! Cher Lloyd will join Big Time Rush -- our PopCrush Music Award winners for Video of the Year -- for a special episode of their Nickelodeon series this spring.
Entertainment Weekly reports that Lloyd will tape her special episode of the boy band's show the week of Jan. 27 -- soon! In the episode, James Maslow and Katie, played by Ciaro Bravo, make up a lie that Lloyd will duet and appear in a video with him. Why? Turns out, Maslow (meaning his character, of course) is desperate for attention. Poor guy!
Other stories in the episode include Kendall Schmidt's onscreen ex, Malese Jow, releasing an album about how he dumped her (sounds like a certain country crossover you may have heard of before) -- and it's a smash success. Meanwhile, Carlos Garcia (again, in character!) gets a lot of poor PR when he swats bees ... and it looks like he's actually smacking a bunch of old ladies.
The episode is set to air this spring during the show's fourth season, and the guys are pretty stoked to have Lloyd on board. "We have been a huge fan of Cher Lloyd's work since 'X Factor,'" Logan Henderson said. "We are so excited to have her guest starring on 'BTR.' She has a charming, sweet. and funny personality, which is a perfect fit for our show."
Watch the Big Time Rush 'Windows Down' Video