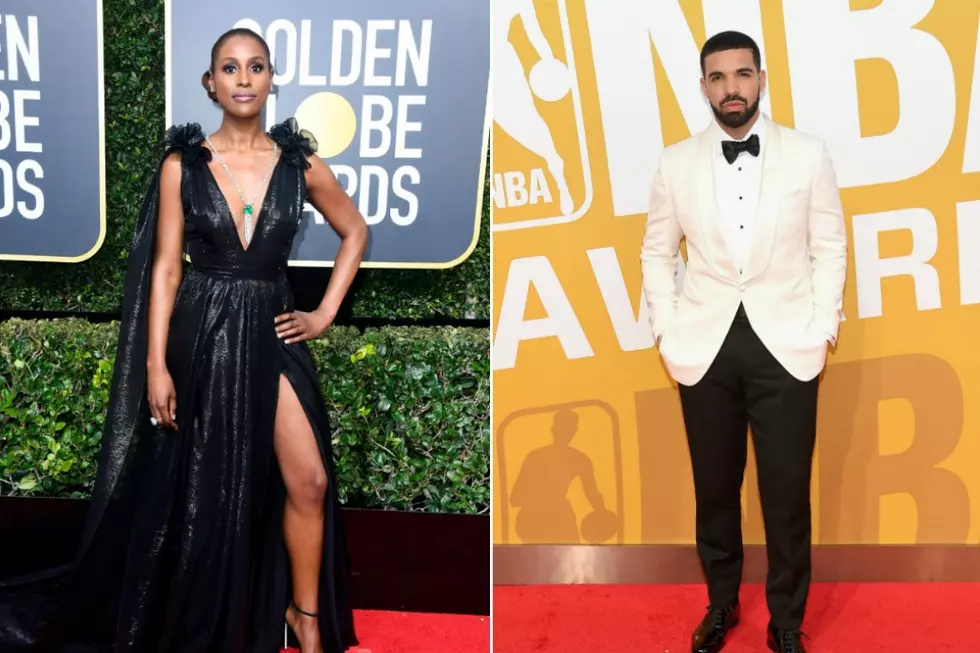 Issa Rae Pokes Fun at Herself Following Rumors She Rejected Drake at 2018 Golden Globe Awards Party
Frazer Harrison / Jamie McCarthy, Getty Images (2)
According to E! Online, Drizzy approached Issa, who'd been nominated for Best Actress that night, as they were walking from one after party to another. Their sources said the Toronto rapper asked Issa to attend a Netflix party he was DJing at, and she responded by telling him that, "she was with all her friends," and told him, "Thanks, but no thanks!' Yikes.
Now, Issa's stepped forth to address that rumor, and as should have been expected, her response was a self-deprecating one. "*Obsessed Fan Who Dedicated Entire Season to Artist Continues to Shamelessly Fangirl When She Sees Him at Party Later," she tweeted on Thursday night (Jan. 11).
If you've followed the exploits of Issa Rae, you might recall that she's a pretty big Drizzy fan. Speaking with the folks at Rolling Stone in October 2016, she revealed that she'd placed an Easter Egg relating to one of Drizzy's lyrics in each episode of Insecure. So, yeah. She's a fan.
Issa looked every bit the part of a Drizzy super-fan when videos of Issa partying it up at what appears to be that Netflix bash Drizzy DJed surfaced on the internet. In the clip, which finds Drake, who recently won a big bet against Quavo, spinning WizKid's "Daddy Yo," as Issa can be heard yelling, "Zaddy." Nice.
Check out Issa's hilarious response to the Drizzy rumor below. Watch video of her enjoying the rapper's DJ set beneath that.
See New Music Releases for January 2018