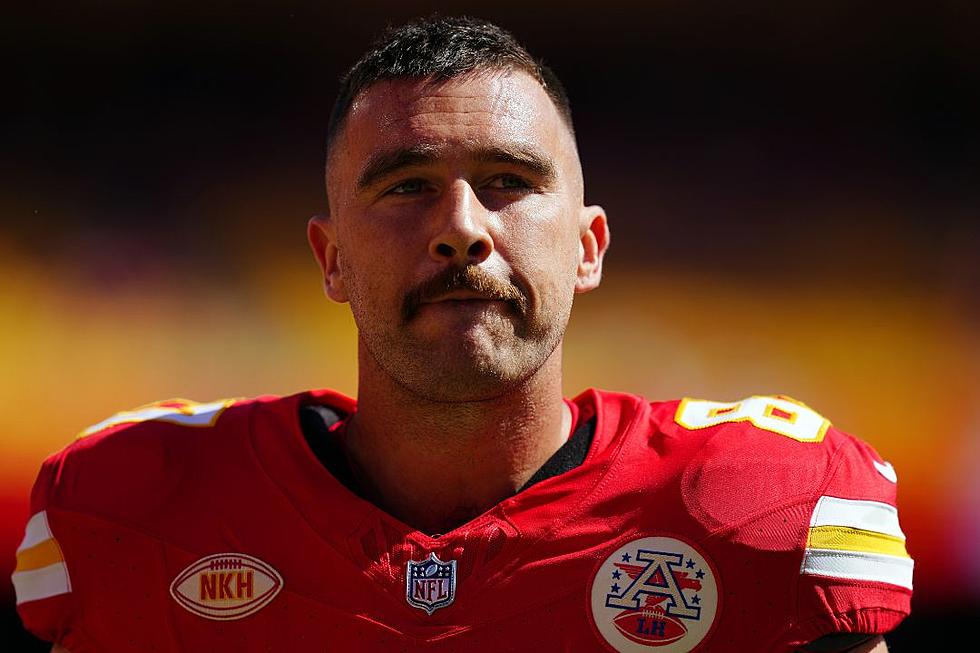 What Are Travis Kelce's Political Views?
Jason Hanna, Getty Images
Travis Kelce is currently one of the biggest stars in the NFL, having won two Super Bowls in the past three years as well as having worked with some of the biggest brands in the world.
Lately, however, the Kansas City Chiefs player's political beliefs have taken center stage.
This is thanks in part to a handful of recent brand partnerships, such as Pfizer and Bud Light, as well as his rumored budding romance with pop superstar Taylor Swift — one of the most high-profile left-leaning celebrities, who has vocally supported democrat politicians and liberal-leaning causes in recent years.
Is Travis Kelce a Republican or Democrat?
It's unclear if Travis Kelce is a republication or democrat. The Kansas City Chiefs tight end hasn't publicly endorsed one political party over the other, and he appears to mostly keep his personal political views and beliefs to himself.
However, in recent years many of his actions, endorsements and advertisement deals have appeared to support values and beliefs many might consider liberal- or democrat-leaning.
For one, Kelce famously took a knee during the national anthem at a game in 2017, reportedly in solidarity with fellow NFL player and civil rights activist Colin Kaepernick, who was protesting racial injustice and police brutality at the time.
Then, in 2020, the NFL tight end supported the Black Lives Matter movement on his social media, including sharing an anti-racism ad in collaboration with Nike as well as a message condemning "white privilege."
In July 2023, Kelce appeared in a beer advertisement for Bud Light.
The ad was released mere weeks after the company received a wave of right-wing backlash for including influencer Dylan Mulvaney in a paid partnership with the company, simply because Mulvaney is trans.
Plus, in September 2023, the football star teamed up with Pfizer to promote the COVID-19 vaccine — which has been a point of contention for many conservatives and right-leaning folks due to widespread vaccine misinformation and politically charged fearmongering — and flu shot in a video shared to his Instagram page.
"The CDC says you can get this season's updated COVID-19 shot when you get your flu shot if you're due for both. That's why I got two shots in one stop! Ask your doctor or pharmacist if it would be right for you. You can also visit CDC's vaccines.gov to learn more and schedule an appointment," Kelce's caption for the promotional video reads.
Overall on his social media, Kelce has maintained an air of political neutrality, encouraging people to vote and make their voices heard without openly supporting either major party or revealing his own political affiliation.
Kelce has even met with both Democratic President Joe Biden and Republican former president Donald Trump.
Following the Chiefs' Super Bowl LIV win in 2020, Kelce visited the White House, as is customary for the winning NFL team each year. While there, he presumably met with Trump, who was serving in office at the time.
READ MORE: Travis Kelce's Ex Sends Worrisome Message to Taylor Swift
Speaking to TMZ at the time, Kelce called his trip to the White House a "crazy opportunity."
He later defended meeting Trump at the White House against leftist backlash, tweeting, "Grew up my whole life watching teams win championships and then go to the White House and get recognized for their greatness... regardless of who is in office I think it's a unique opportunity to experience our nation's Capital [sic]."
Kelce visited the White House again in 2023 following the Chiefs' Super Bowl LVII win.
While there, he met and took photos with Biden, as well as jokingly attempted to give a presidential speech of his own during a podium gag.
Travis Kelce's Conservative Backlash Explained:
In recent weeks, Travis Kelce has received a wave of "anti-woke" backlash from right-wing and conservative personalities.
To start, Kelce received backlash for his partnership with Bud Light due to some conservatives' negative perception of the brand following the beer company's collaboration with trans influencer Dylan Mulvaney, which resulted in a large-scale boycott over the summer.
Kelce's Pfizer ad was also poorly received by anti-vax republicans, including Megyn Kelly, who complained on her SiriusXM show that Kelce is "super woke" because he's "with Taylor, he endorsed Bud Light post-controversy, and he's pushing the Pfizer vax."
While Kelce turned off the comments section on his Instagram Pfizer ad, detractors slammed him under his other social media posts.
"Bro sold his soul. Once big pharma gets it, you never get it back," one person commented, while someone else wrote, "I'm a big Chiefs fan. Whoever advised you to do that commercial, made a huge mistake."
"Travis Kelce sold his soul to Pfizer to push the clot shots," another person tweeted. (According to the Yale School of Medicine, the Johnson & Johnson COVID-19 vaccine may be linked to a rare blood clotting disorder for a small group of at-risk individuals.)
Meanwhile, some people — like conservative political commentator Tomi Lahren — simply dislike that Kelce is reportedly dating Taylor Swift, who has a strong political affiliation with the left.
Over the past few years, the pop star has supported the Black Lives Matter and Time's Up movements; criticized the Supreme Court's overturn of Roe v. Wade; advocated for and donated to LGBTQ+ rights causes; and spoken out against white supremacy and gun violence in the U.S.
The singer, who was largely apolitical in her public image in the earlier days of her career, took a stance against the latter in a rare political message shared on social media in 2018.
The same year, she publicly endorsed a democratic Senate candidate in her home state of Tennessee.
"In the past I've been reluctant to publicly voice my political opinions, but due to several events in my life and in the world in the past two years, I feel very differently about that now. I always have and always will cast my vote based on which candidate will protect and fight for the human rights I believe we all deserve in this country. I believe in the fight for LGBTQ rights, and that any form of discrimination based on sexual orientation or gender is WRONG. I believe that the systemic racism we still see in this country towards people of color is terrifying, sickening and prevalent," she wrote on Instagram at the time.
In 2020, Swift made headlines again when she publicly endorsed Biden for president.
Travis Kelce's Dating History Revealed
Meet the ladies who, at one point or another, reportedly captured the heart of the Kansas City Chiefs tight end.
Gallery Credit: Donny Meacham