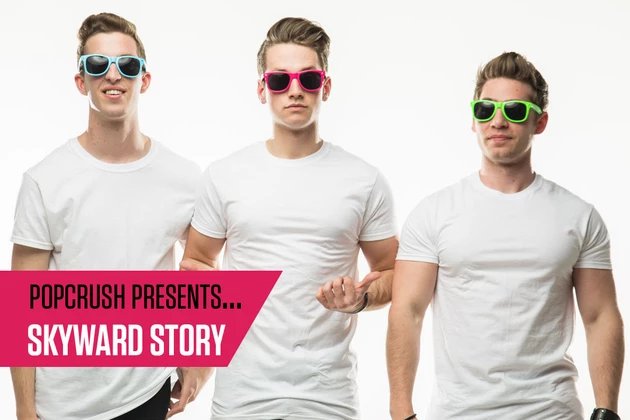 Skyward Story Take Flight With a Brand New Sound on 'Hey': PopCrush Presents
Jonathan Thorpe
Every week at PopCrush, we're putting the spotlight on one up-and-coming act you need to know about. Why? So you can get on board early before everyone else and their mother jumps on the bandwagon…and so you can be that one friend in the group who's always like, "Um, actually, I prefer their earlier work."
With a new name, a new vocalist and a new sound, the sky's the limit for Skyward Story.
After the pop-rock trio — formerly known as 3PM — made the decision to change their name, the newly reinvigorated troupe is now charging ahead with a brand new beat.
"Hey" is the group's Matt Squire-produced (One Direction, Panic! At The Disco) lead single from their forthcoming album due out later this fall. And hey, what better way to say hello again to the world than a simple "Hey"?
"We're excited to release 'Hey' as our first single. It's a positive song that pokes fun at ourselves for always writing 'stupid little love songs' and reminds us not to take ourselves too seriously," the group tells PopCrush.
"While we were writing the album we had the realization that every song written up to that point was a love song. We joked around a little and then found ourselves drawn to the idea and we ran with it. Just one listen and you'll have 'Hey' stuck in your head. Welcome to Skyward Story!"
The group's last studio album, 2015's Slow Me Down, debuted in the Top 30 on Billboard's Top Rock Albums chart.
Who would you like to see featured in PopCrush Presents next? Tweet us at @popcrush with your recommendations using #PopCrushPresents!