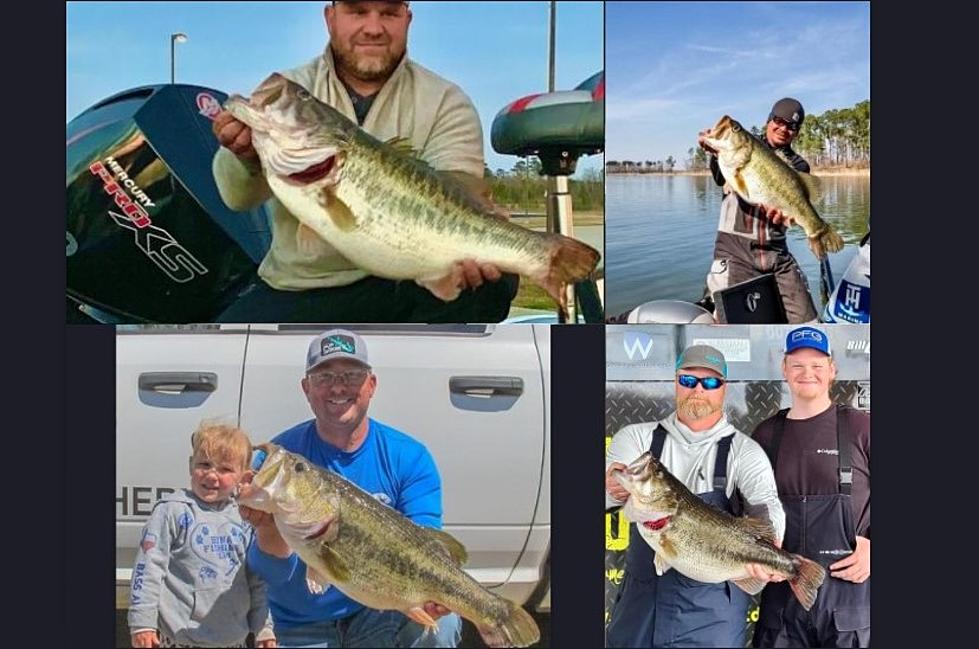 Texas Anglers Are Catching Monster Bass on Lake Sam Rayburn
Texas Parks & Wildlife Dept
The Sealy Outdoors Big Bass Splash on Lake Sam Rayburn Reservoir is just around the corner (April 22 - 24) and it looks like there are some monster bass ready for the taking. The lake recently produced its second Toyota Legacy Lunker of the year when Erik Peveto of Buna, Texas landed a 13.82-pound mammoth bass.
According to a release from the Texas Parks & Wildlife Department, Peveto headed out to Sam Rayburn with his wife Ann and two-year-old daughter Breann for an afternoon of fishing. They weren't getting any bites for the previous hour and a half, but success proved to be just around the corner. Peveto changed the bait to a Senko, cast up near a bush and felt the bite. He put a little pressure on the line and the fish let it go, but after a few moments he felt it pick up again.
"I applied a little pressure again and it felt like the fish had it this time," Peveto said. "Initially I thought it was a male that was just playing with the bait, but then when I set the hook, I told my wife this is a big fish and bring our daughter up here. The fish began running with it and I helped Breann hold the rod and let her reel in the fish. I was watching Breann and helping her, but my wife Ann was observing everything that was going on. Ann had an idea how big it really was once it got within 15 feet of the boat. The fish made one final run underneath the boat, and we cranked down on the line to shorten it up. My wife was sitting on the driver's side of the boat, grabbed the line and had to use both hands to pick her up into the boat."
The moment the fish landed in the boat, Peveto said he and his family looked at each other and marveled at its size. Peveto indicated as crazy as it sounds, they still didn't realize how big the fish really was. He told his wife if it was over 10 pounds, he was going to have a replica made.
"We immediately decided to leave the fishing area and go to Jackson Hill to weigh it," Peveto said. "My wife called ahead to let them know we had a fish we wanted to weigh, but at the time, we still had no idea the fish was going to weigh close to 14 pounds. I was elated when they put the fish on the scale and saw the official weight. When I was walking up, I thought it had to be at least a 10-pounder, but if it's an 11-pounder it will be my personal best. It was absolutely incredible that it turned out to be a ShareLunker. I want to thank my wife Ann for being there and playing a big part in making the catch. It was amazing to experience this with my family and it doesn't get any better than that."
Of course, Lake Sam Rayburn is no stranger to monster bass, Jay Calvert of Coldspring, Texas reeled in Sam Rayburn's first Legacy Lunker of 2022 earlier this month with 14.34-pound bass.
In 2021, Sam Rayburn also delivered two Legacy Lunkers thanks to angler Travis Moore, with 13.44-pound ShareLunker 586, and Derek Mundy, with 13.62-pound ShareLunker 588. Both catches occurred during January.
Anglers that submit Legacy Class Lunkers will receive a catch kit filled with merchandise, a 13+ pound Legacy decal for their vehicle or boat, VIP access to the Toyota ShareLunker Annual Awards event and a high-quality replica mount of their Lunker fish from Lake Fork Taxidermy. Anglers will also receive entries into two separate drawings – a Legacy Class Drawing and the year-end Grand Prize Drawing. Both drawings will award the winner a $5,000 Bass Pro Shops shopping spree and an annual fishing license.
Once a lunker is reeled in, anglers need to enter the catch data on the Toyota ShareLunker mobile app – available for free from the Apple App Store and Google Play – or on the Toyota ShareLunker online app at TexasSharelunker.com. In addition to providing basic catch information, anglers can also provide a DNA scale sample from their lunker bass to TPWD researchers for genetic analysis.
For updates on the Toyota ShareLunker Program, visit facebook.com/sharelunkerprogram/ or TexasSharelunker.com.
For pictures of the Legacy Class ShareLunker's caught during the 2022 season, visit the TPWD Flickr album at https://flic.kr/s/aHBqjzxNwz.
2021 Big Bass Splash on Lake Sam Rayburn
Here are pictures from some of the bigger fish brought to the weigh-in at the Big Bass Splash.
2022 Brandon Belt $100K Grand Slam Fishing Tournament
Here's a look at some of the action and huge fish brought in for this inaugural tournament which paid out over $400K to anglers and over $100K to charity.