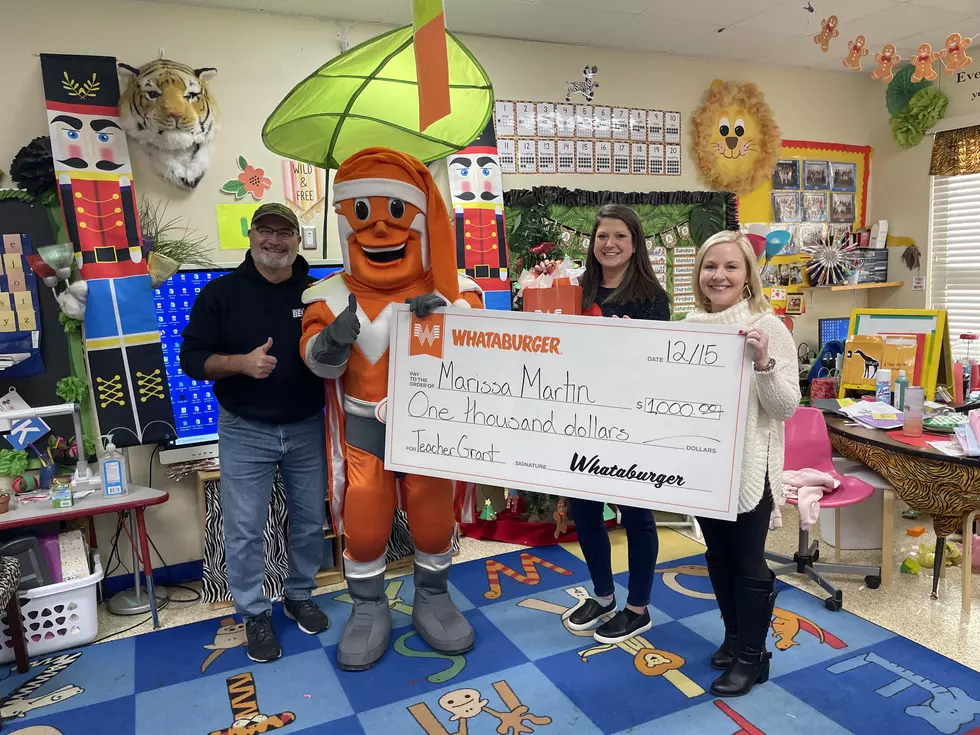 Central Heights Educator Wins $1,000 Teacher of the Day Contest
KICKS 105
This is our favorite time of the year, and not just because it's Christmas.
At the end of every school semester, we team up with our friends from Whataburger for our Teacher of the Day Presentation. One deserving teacher in the Pineywoods is presented with a $1,000 classroom grant.
We've been doing the KICKS 105 Teacher of the Day promotion with Whataburger for over six years. We encourage area residents to submit nominations for some of their favorite East Texas educators. Then, at the end of the fall and spring semesters, we assemble all the entries of nominated teachers and select one who will receive the classroom grant.
Our most recent winner is Marissa Martin at Central Heights Elementary School in Nacogdoches County.
On Thursday, December 15, representatives from KICKS 105 and Whataburger (including What-A-Guy) entered Mrs. Martin's classroom to surprise her with the great news.
This is what the nominator had to say about our Teacher of the Day:
Mrs. Martin is one of the most important persons in my son's life. She has greatly impacted his likes for school again. She is very patient and understanding. She is super communicative with the parents (which I greatly appreciate) but most importantly she has helped my son love school. He loves going to her class. He loves learning because of her! I couldn't be happier with Mrs. Martin. I am so glad my son has her in his corner. She has truly impacted his life and made a difference for him!
You can nominate a teacher here.
Here's a look at all of our Teacher of the Day $1,000 winners
KICKS 105/Whataburger Teacher of the Day $1,000 Winners
Every semester KICKS 105 teams up with Whataburger to award an area teacher a $1,000 classroom grant. Here's a look at the winning teachers so far.
2022 Woden Pumpkin Contest
Woden Pre-K through 5th-grade students along with their families were asked to get creative and enter the pumpkin decorating contest. Take a look at these amazing entries.