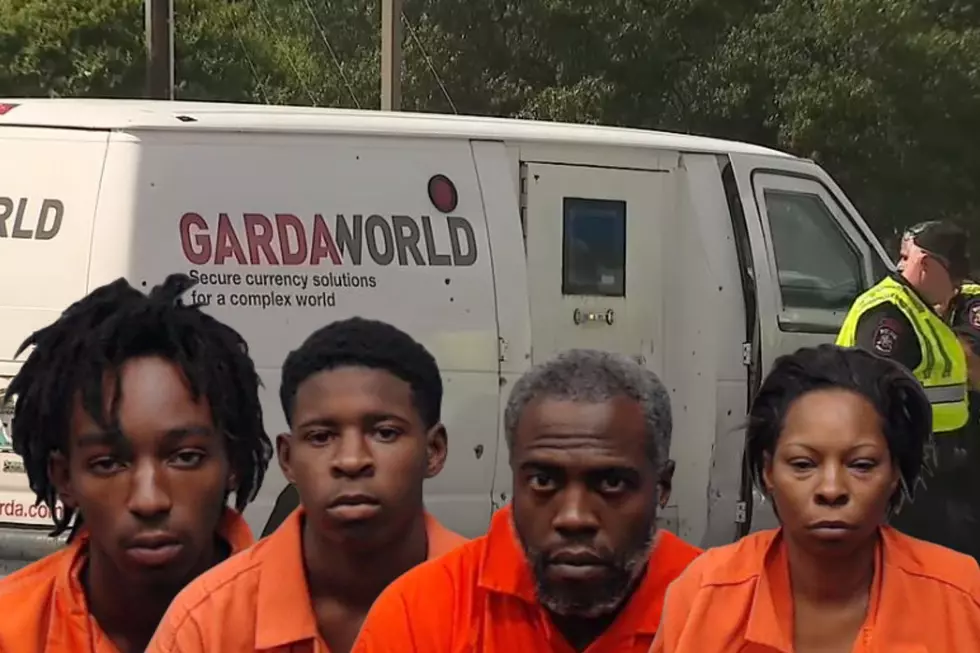 Four Armored Truck Robbery Suspects Captured In Smith County, TX
Smith County Jail/Fox 4 YouTube
A brazen and wild scene played out in front of shocked shoppers and onlookers in broad daylight in Carrolton Texas on Thursday.
Carrollton police say a group of people tried to rob an armored van at a Bank of America around noon on Thursday, and gunfire erupted.
According to Fox 4 News, cops say they got the call just after 12 p.m. about a robbery at a Bank of America at the Carrollton Park Shopping Center on Josey Lane. Police say two employees for security services company GardaWorld were inside of a white armored van. They were contracted to restock the bank's ATM.
Investigators say four people opened fire on the van, striking one of the guards in the arm.
The injured GardaWorld employee is expected to be okay, and the other was not injured. Police are still searching for surveillance video but say it's likely the GardaWorld employees drove away from the bank to get away from the shooters.
Police say after the suspects left the scene. They ditched the vehicle they were originally in and got into a new car.
After issuing a BOLO alert, that vehicle was spotted around 3 p.m. by a Smith County constable about 100 miles east of the scene on Interstate 20 near Tyler. Police arrested 4 suspects, all from Mississippi, and took them to the Smith County Jail where they will be brought back to Carrollton and then transferred to Dallas County Jail on Friday.
43-Year Old Lillie McCoy
40-Year-Old Rayfiel Gill
17-Year-Old Gary Taylor
17-Year Old Katron Pittman
DWI Is Still A Huge Problem, 17 Arrested This Week In Gregg & Smith Co. Texas
These East Texans were arrested in Smith County and Gregg County for driving while intoxicated from June 13th - 16th.
45 Arrested In Gregg Co. For DWI, Family Violence, Possession And More
Criminals do not take the weekend off. Those who drink and drive do not take the weekend off. Those who get upset and take their anger out on family members do not take the weekend off. Because of those incidents and others, Gregg County law enforcement was kept busy last weekend.
74 Arrested In Smith County Last Weekend Mainly For DWI And Possession
The following were arrested in Smith County, Texas from Friday, July 29th - Sunday, July 31st.