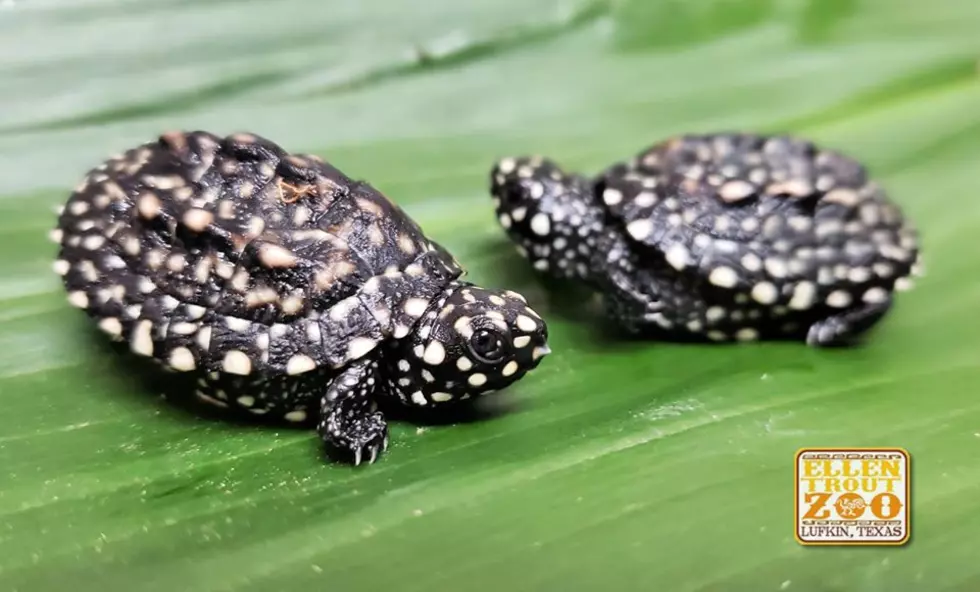 Hatch Alert – Ellen Trout Zoo
Photo's From Ellen Trout Zoo
During the lock-down, animals have taken this breather to get out there and hatch. The Ellen Trout Zoo has just had 2 baby turtles hatch. Not just any turtles but these speckled Hamilton's Pond Turtles, Indian or black pond turtle. The pair has just hatched out of their shells and couldn't wait to meet.
The hatchlings 5 possible parents are in the Mandarin Pond. That is the one you always pass on the way in, past the clouded leopards. The little guys won't be on exhibit anytime soon, at least in that area. That pond is full of huge alligators and huge turtles. They would just get lost in all that reptile habitat.
Hopefully once they reopen the small reptile building they will be able to put them out for everyone to see. Right now social distancing at the zoo is keeping that area closed. I believe the zoo is using the time to do some updates in the exhibit.
About 2 months ago, zookeepers noticed that the female's were digging and laying eggs. They took the eggs and artificially incubated them for 60 days. The end results are seen here, tiny hero's in a half shell. 
Enter your number to get our free mobile app
These two little ones represent years of work, and are the first of their species to be hatched at the Ellen Trout Zoo. They will eventually grow up to be just as large as their mother and father. This freshwater turtle is indigenous to South East Asia.
Ellen Trout Zoo Is Open With Restrictions
Hopefully this is just the start of more animal babies from the Ellen Trout Zoo this summer.
Baby Turtles At Ellen Trout Zoo