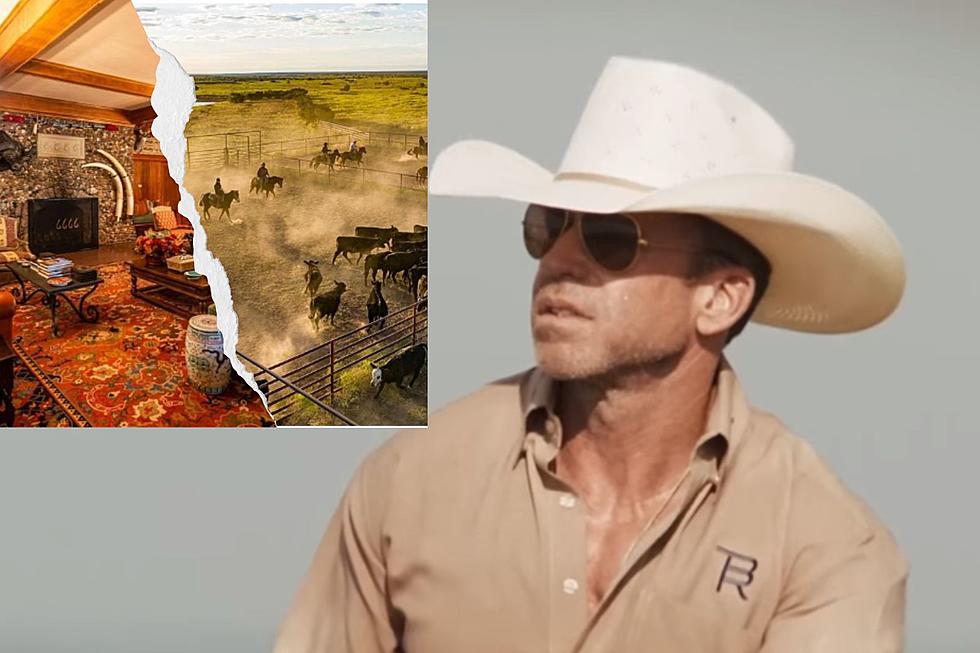 See Yellowstone's Taylor Sheridan's Epic $350 Million Texas Ranch
Chas S. Middleton and Son, Yellowstone Channel YouTube, CANVA
If You Love Yellowstone, Then You Know Who Taylor Sheridan Is.
Sheridan is the genius behind the hot show so many of us have submerged ourselves in, Yellowstone. You can't go to a major retailer without seeing some type of Yellowstone Ranch t-shirt or hat and there are even some must-see shows that have come out of Yellowstone like "1923" and "1883".
Taylor Sheridan Has Become the Ninth Largest Landowner in Texas.
The Yellowstone creator owns a lot of land between Fort Worth and Lubbock, Texas. The biggest purchase was this massive ranch. According to the Fort Worth Report, Taylor Sheridan is the man behind the hefty purchase of the 6666 Ranch. The Fort Worth Report said "Sources did confirm that the sale was made to a group led by screenwriter/producer Taylor Sheridan, who grew up in Texas and graduated from R.L. Paschal High School in Fort Worth. Sheridan is a co-creator and producer on the popular Paramount Network television series "Yellowstone" and a spin-off series, "1883". Much of "1883" was filmed in Fort Worth. The success of "Yellowstone" has caused interest in a second, related series from Sheridan based on the 6666 Ranch."
The 6666 Ranch is Located Just Outside of Guthrie, Texas.
Which is 95 miles from Lubbock and 200 miles from Fort Worth.
Tyler Sheridan Is Always Eager to Talk About the Cowboy Way of Life.
<iframe width="560" height="315" src="https://www.youtube.com/embed/xCZcwa5YoLI" title="YouTube video player" frameborder="0" allow="accelerometer; autoplay; clipboard-write; encrypted-media; gyroscope; picture-in-picture; web-share" allowfullscreen></iframe>
See Inside Yellowstone's Taylor Sheridan's Beautiful $350 Million Texas Ranch
Sheridan is a wildly successful American filmmaker and actor. He portrayed David Hale in the FX television series "Sons of Anarchy," but of course is best known as the architect of television's fastest expanding universe.
Which is one major reason for his group purchasing the massive ranch.
22 'Yellowstone' Facts You Probably Didn't Know
How big of a fan of
Yellowstone
are you? These 22 facts about the Paramount Network show are sure to stump even the most dedicated viewers. They're almost all about the cast members and their real-life passions and roles. John's kids? Beth's accent? Rainwater's guitar playing? Tate's spoilers? It's all part of this list of 22 Facts You Probably Didn't Know About Yellowstone.
PICTURES: See Inside 'Yellowstone' Star Cole Hauser's Spectacular California Ranch
Cole Hauser doesn't just play a rancher on Yellowstone, he's lived that life off-screen, too. The actor's 5-bedroom-6-bathroom, 5,402-square-foot rural home on a very private, double-gated three-acre parcel of land includes the lavish 4-bedroom, 4-bathroom main residence, as well as a guest house and a separate studio apartment. The main house runs completely on solar power and comes with a 3-car garage, with easy transitions between indoor and outdoor living spaces, and the exterior of the property includes a pool area and a hot tub, as well as fenced-in horse corrals.