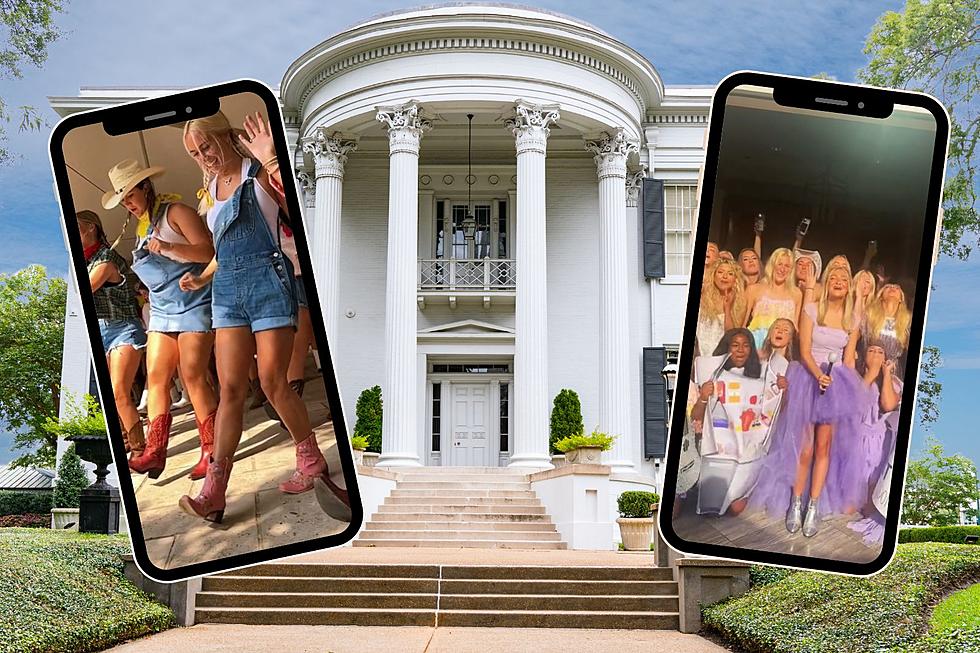 What Is 'RushTok' and Why Is It All Over Your FYP?
Canva/ TikTok @uachiomega/ TikTok @bamazta
A new semester means a new season of sorority rush at colleges across the United States. #RushTok is back and it's bigger than ever, so grab put on your Hokas and your latest fit from The Pants Store; we're doing a deep dive into this vivacious viral trend.
What is 'RushTok?'
TikTok posts using the hashtag #BamaRush skyrocketed in popularity in 2021. Students preparing for sorority rush at the University of Alabama began using the hashtag to document their journeys with the recruitment process and many of those posts went viral, racking up millions of views worldwide. #BamaRush has over 3 BILLION views to date on TikTok alone.
Why is #RushTok All Over My FYP?
RushTok (the nickname given to Rush-related content) has increased in popularity since 2021, reaching a fever pitch in August when recruitment week begins on campuses across the United States. It's peak Rush Season, so that means an increase in #RushTok content on your For You Page.
Was There Really a Rush Documentary?
While every college has its own unique RushTok hashtag, none is as massive as the OG #BamaRushTok. Interest in Rush at the University of Alabama was so intense that HBO released Bama Rush, a documentary about the trend, in May of 2023. Reviews for the doc were mixed, with some expressing their disappointment at the lack of behind-the-scenes Rush drama.
So How Does Sorority Rush Work?
Sororities are a part of Greek life on campus, and each college's Panhellenic Association will host its own week dedicated to recruitment before the start of a new semester. While it's possible to rush at the beginning of the Spring semester, the main event almost always precedes the Fall semester.
Students who want to join a sorority (nicknamed 'Potential New Members' or 'PNMs' for short) will attend a week of events designed to introduce them to each sorority. This week of recruitment is known as 'Rush' and culminates in 'Bid Day,' an event during which the PNMs are officially invited to pledge to a specific sorority.
When is Rush?
Recruitment week varies from campus to campus. The University of Alabama officially kicked off its recruitment week on Saturday, Aug. 12.
What is a 'Rush Bag?'
PNMs will spend basically an entire day going from one sorority house to the next and need to be prepared for any occasion, especially at SEC schools where temperatures during Rush Week can exceed 100 degrees.
PNMs store their supplies in an easily accessible bag (aka "Rush Bag") and many share their bag's contents on social media.
What Are the Girlies Wearing This Year?
Most RushTok posts include an OOTD (Outfit of the Day); PNMs showcase what they're wearing to each event during Rush Week.
Trends so far this year lean into the athleisure vibe with pleated tennis skirts from places like Gold Hinge or aerie. Hoka and Golden Goose sneakers are hot as is understated gold jewelry from Hermès, David Yurman, and Kendra Scott.
Is Rush REALLY That Big of a Deal?
Rush (and Greek Life in general) is HUGE at many colleges, especially those in the South. al.com reports over 2,500 young women rushed at the University of Alabama in 2022, and costs for registration, membership fees, and those #OOTDs can easily run into the thousands.
Many PNMs are so eager to rush that they'll hire coaches to assist them in preparation for recruitment week.
How Do I Keep Up With It All?
If you're #RushTok obsessed, TikTok user @sockbunstudios has you covered. She's created a spreadsheet counting PNMs rushing at both the University of Alabama and Auburn University. You can use the usernames in the sheet to follow your fave creators to Bid Day and beyond.
More Rush Drama: University of Alabama Condemns "Unauthorized" Sorority Rush Documentary
Sights from Bama's Bid Day 2022
More than 90 percent of the 2,500 students who rushed Panhellenic sororities at the University of Alabama this summer accepted bids to join one in an extravagant affair Sunday afternoon.
Check Out the Best-Selling Album From the Year You Graduated High School
Do you remember the top album from the year you graduated high school?
Stacker
analyzed
Billboard
data to determine just that, looking at the best-selling album from every year going all the way back to 1956. Sales data is included only from 1992 onward when Nielsen's SoundScan began gathering computerized figures.
Going in chronological order from 1956 to 2020, we present the best-selling album from the year you graduated high school.