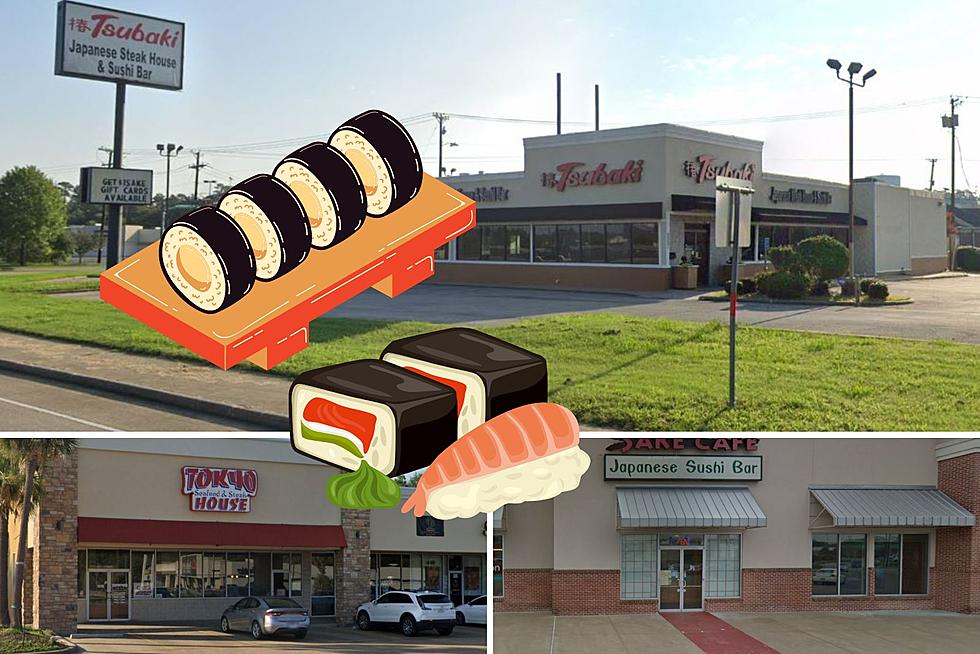 The Top 5 Japanese Restaurants In Lufkin, Texas
googlemaps/canva
There are only three Japanese restaurants in Lufkin
5 just sounded better than 3
I've also included all of our Chinese restaurants in the list.
When you think of the sushi capital of the world, you wouldn't think that Lufkin in Deep East Texas would be on the top of the list. I have tried sushi all over the state of Texas, and I think we stack up just fine.
Lufkin seems to have just about everything a larger city has when it comes to restaurants, just less. We have three choices when it comes to Japanese restaurants in Lufkin.
Sake Cafe is right next to Pet Smart in the Garden District shopping center in Lufkin. I've been there many times. They make sushi right before your eyes, and it is always a solid choice.
Tokyo And Tsubaki Reign Supreme in Lufkin 
Tokyo in the Palms Shopping Center is always highly rated in any poll of Japanese restaurants in Lufkin. If you are looking to get a shrimp flung at your face at high speed, this is the place to go.
It is the go-to establishment for special occasions because you get dinner and a show. If you are going to have a big birthday party, tell the family you want to go to Tokyo.
Tsubaki is amazing, but I am biased because I know the owner, and she is just the best. I truly believe this is the best place to get sushi anywhere in Lufkin.
They also have hibachi, but unlike Tokyo you can choose to sit in the restaurant and grab a booth. Take a look at this list of all the Japanese spots in Lufkin. I even threw in the Chinese restaurants for extra credit.
Top 5 Japanese Restaurants In Lufkin, Texas
The best part of this Top 5 is that there are only 3 Japanese restaurants in Lufkin. I also included our Chinese restaurants.
Get Up To Speed With Dating In Lufkin and Nacogdoches, Texas
People are speed dating right here in Deep East Texas with Loveocity Speed Dating.
The Seven Wonders Of Lufkin
Do these all meet the criteria of a wonder of Lufkin? Decide for yourself.