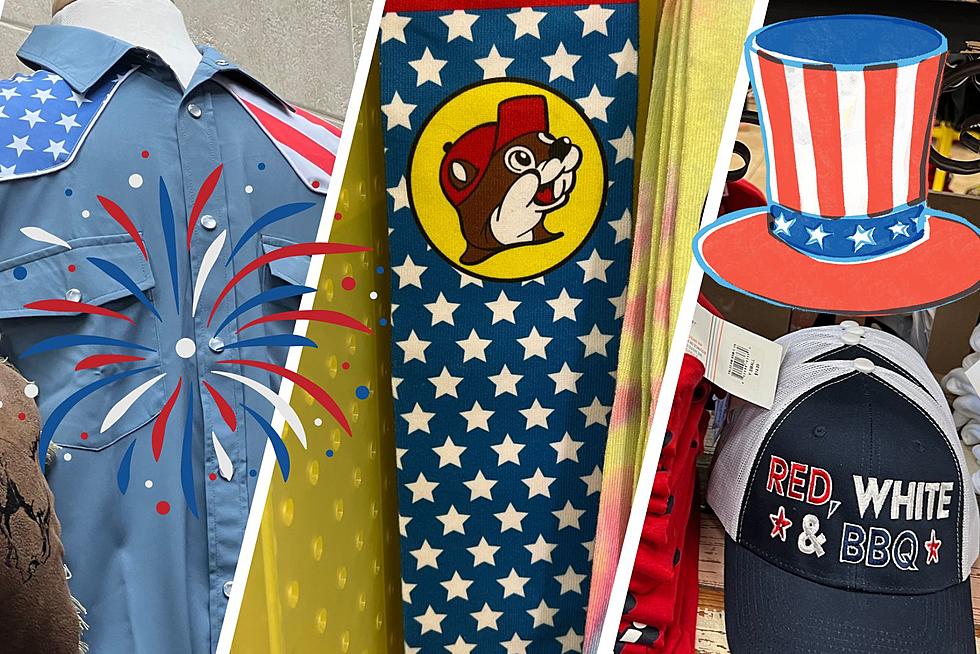 Get To Buc-ee's In Texas For Sensational 4th Of July Merch
TSM Lufkin/Canva
Buc-ee's - "Now with more FREEDOM"
Show your patriotism with these styles
Stop in and let freedom ring
In Texas, we love Buc-ee's, freedom, and a good graphic tee. Put all those things together and you have a perfect storm that would amaze our forefathers that first saw old glory fly.
Betsy Ross herself couldn't have imagined all the places her original design would end up. Much less a  gas station with enough latrines for an entire platoon of freedom fighters.
Buc-ee's is hitting the 4th of July hard this year with patriotic-themed items in every section and at every price point. I stopped by the Madisonville, Texas location Sunday and was overwhelmed by the amount of people and the amount of America on display.
Buc-ee's Releases Their Patriotic Fury 
"Sorry I can't hear you over the sound of FREEDOM RINGING" is the theme of this year's 4th Of July merchandise at Buc-ee's. If one of your travel buddies spends a little too much time in the squeaky-clean private bathroom stall, there is always something interesting to buy.
Buc-ee's has basically turned from a convenience store into a Walmart with better bathrooms and branding. If you are wondering where you can find the perfect shirt to wear to a fireworks display, look no further than Buc-ee's.
I took a little time to browse the isles and took note of all of almost everything that had a star and a stripe for you. Take a look at the massive amount of things you can find at Buc-ee's for the 4th.
Buc-ee's Patriotic 4th Of July Merchandise
Buc-ee's knows how to celebrate the birth of a nation. This is how to market America to a Texan.
The Healthiest Things You Can Eat At Buc-ee's
Being on the road isn't a great time to switch up your diet. If you are trying to eat clean, here are some choices at Texas' favorite rest stop.