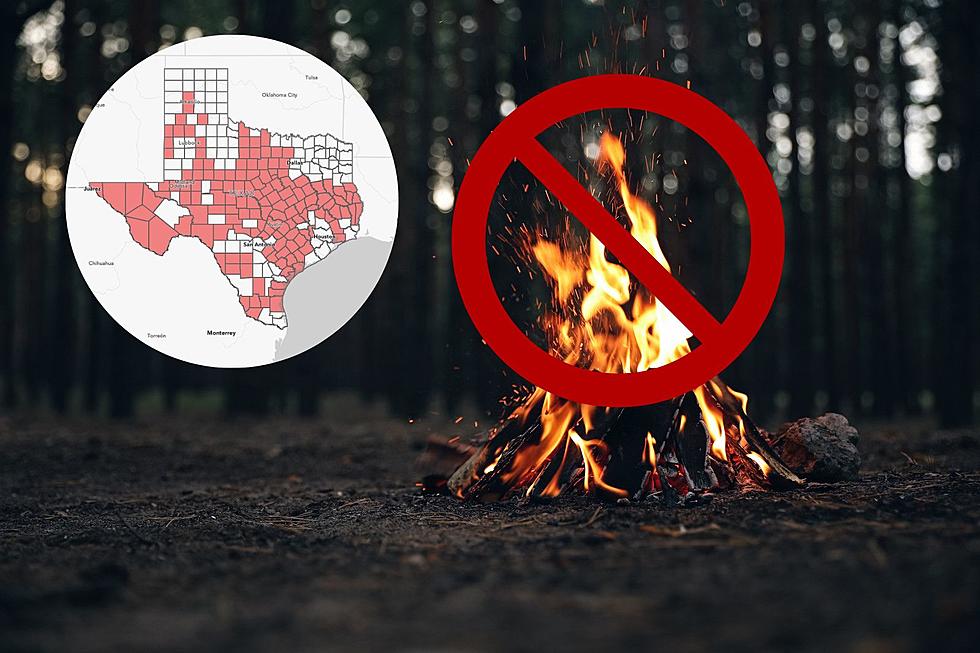 145 Counties In Texas Now Under Burn Ban
Liudmila Chernetska/Texas A&M Forest Service/canva
Burn Ban Season
Dry Days Continue
We Need Rain
Temperatures continue to climb across all of Texas, and records are being broken. Every summer in our state the heat brings drier conditions.
That leads counties across Texas to implement burn bans. We had a lot of rain in the late spring, and there was excessive plant growth all over the state.
Now that same grass or brush that got huge during the wet weather is slowly turning brown and drying out. We have a massive amount of fire fuel just waiting for an ember in 145 counties in Texas.
Active Wildfires Already Causing Issues In Texas
Texas A&M Forest Service keeps track of all the fires and burn bans in our state. On Wednesday, July 26, 2023 they responded to 13 new requests that burned over 800 acres across Texas.
Blum Fire, Hill County - est. 300 acres, 30% contained
Peanut Fire, Eastland County - 84 acres, 95% contained
Javelin Fire, Atascosa County - 282 acres, 80% contained
Rock Pile Fire, Jeff Davis County - 150 acres, 0% contained
Pit Smoke Fire, Caldwell County - 13 acres, 85% contained
Big Iron Fire, Edwards County - est. 150 acres, 80% contained
Pipeline Fire, Parker County - 372 acres, 75% contained
East Texas had a lot of wildfires recently. Luckily they have all now been contained.
Contained Wildfires (100%):
San Augustine 2647 Fire, San Augustine County - 32.9 acres
San Augustine 2654 Fire, San Augustine County - 15 acres
Rusk 2649 Fire, Rusk County - 1.7 acres
Rusk 2653 Fire, Rusk County - 1.6 acres
Jasper 2652 Fire, Jasper County - 0.9 acres
Jasper 2658 Fire, Jasper County - 0.5 acre
Liberty 2656 Fire, Liberty County - 15.3 acres
Polk 2646 Fire, Polk County - 0.5 acre
Even if your county or town is not currently under a burn ban, you should still exercise caution while burning outside. If your town offers trash pickup you should take advantage of that.
Stay up to date with the burn bans in your area with this interactive map.

7 Unsuspecting Items That May Spark Texas Wildfires
With extremely dry conditions across the state, the following everyday items that may accidentally spark a fire.
LOOK: These Are the Most Valuable Crops Grown in Texas
Stacker
compiled a list of the most valuable crops produced in Texas using data from the U.S. Department of Agriculture.
These 7 Tips Will Help Reduce the Heat Inside Your Car in East Texas
The heat in East Texas is no joke, especially inside our vehicles after they've been parked outside for a while. However, there are some ways that can help reduce that heat in your vehicle's cabin.