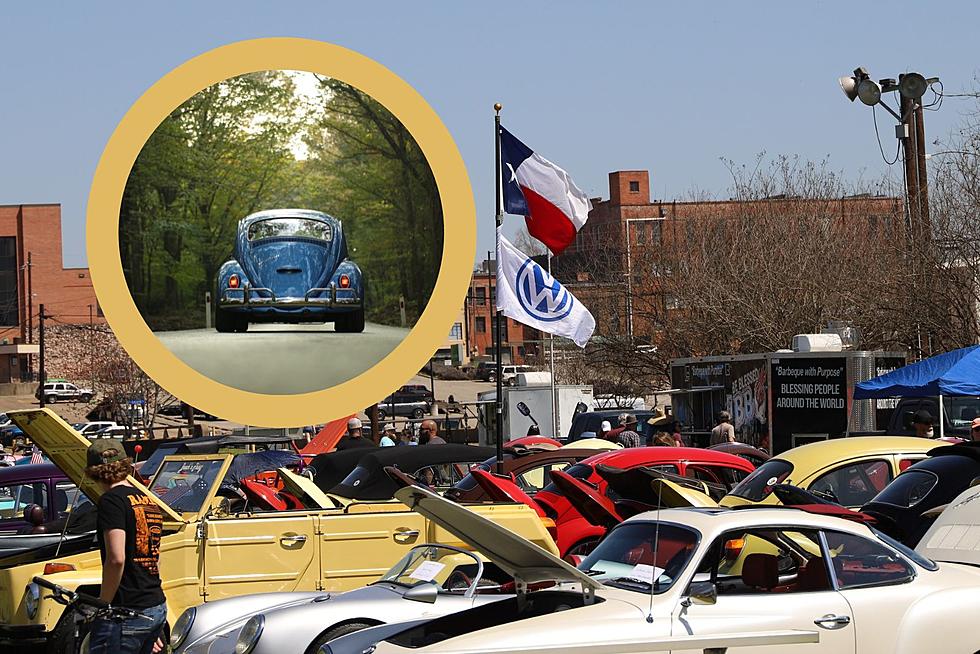 Prime Slug Bug Time In Nacogdoches, Texas Next Saturday
etvdub.com/canva
Get ready for a slugfest while checking out all these classic VW Beetles.
The Blooming Good VW & Porsche Show is better than your average car show.
If you're a fan of iconic roundy vehicles from Germany, don't miss this event.
Driving around the oldest town in Texas with your kid brother might leave you with a sore arm next weekend. There will be many classic Volkswagen Beetles driving around before a very niche car show next Saturday.
It is the 16th Annual Blooming Good VW & Porsche Show or Das Bluhende Gute Schau XVI. Tons of Volkswagon vehicles will descend on Festival Park in Nacogdoches.
Gates open at 8 AM and the festival is from 9 AM to 2 PM Saturday, March 25, 2023. There will be all kinds of VW's - air-cooled, water-cooled, classic, late model, and custom entries.
The 16th Annual Blooming Good VW & Porsche Show 
If you have a family member that just can't get enough of these iconic roundy vehicles from Germany, they are going to love it. Spectators can check out all of the vehicles for free.
You will also get a chance to vote on which vehicle you liked the best. There will be food trucks, vendors, and activities for the kids.
If you want to enter your prize Volkswagen or Porsche in the show it's just $25. If you just want to check out the swap meet it's only $10 to see if they have a part you need.
Seeing a VW or a Porsche in East Texas is quite the event. I think that is why it makes such a fun car game around here. They are easy to spot in the sea of massive trucks and SUVs that are native to our area.
All proceeds go to Hospice of East Texas, and the event is hosted by the East Texas Vee Dub Club. CLICK HERE for more details.
Pictures from the Raceway Car Show in Tyler, Texas
Pictures were from the Raceway Car Show at Patterson Dodge on the loop in Tyler, Texas.
Collectable Cars VS. Semi Accident
See just how close this semi came to the classic cars for sale on this lot between Lufkin and Nacogdoches.