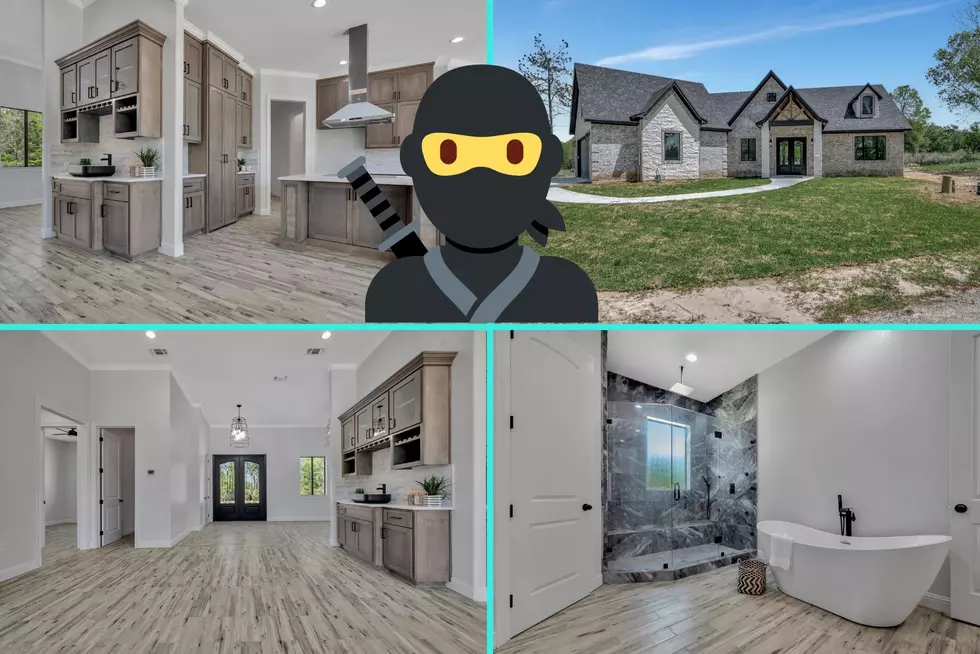 Hudson, Texas Home With A Hidden Panic Room Pantry
MLS#:64407 Wendy Williams Gann Medford, Angela Marcotte 360 Media of East Texas/canva
If you are looking for a move-in ready home with a custom feel, this new residential construction outside of Lufkin in Hudson should be on your list. I took a few minutes to drive by this house over the weekend, and it really is something to see.
The home is located off TX HWY 94 close to all the Hudson schools. Just take a turn at Dollar General across from Peavy Primary into the Copper Cove subdivision. You'll be on Meadow Brook Drive, then take the second right and follow the road around until you get to the culdesac.
Walking in through the large metal double doors, you're greeted by a big bright open space with 13-foot ceilings in the foyer. To keep everything clean and cool in the East Texas heat the floors are all tile.
Hide From Your Kids And Eat Cookies In This Hidden Pantry
Like most times when I get home, the first place I go to is the kitchen. Well, more specifically I head to the pantry.
Just standing in the middle of the room, surrounded by food, mindlessly snacking on something is a vibe. Now imagine that the pantry itself is hidden, so no one can catch you.
Open a pair of doors of what appears to be a large cabinet, walk right in, and shut the doors behind you. This could also double as a panic room or a great place to go with no windows during a storm.
This beautiful home was built by Kevin Sanchez, who loves to add high-end touches to his builds. It's listed for $430,000 and you can see it in person at the upcoming open house on Sunday, February 5th from 1-3 pm.
Hudson, Texas House With A Hidden Pantry Panic Room
Imagine eating all your snacks where no one can find you. The listing agent is
Wendy Williams
at Gann Medford Real Estate.
Uptown Fashion House In Downtown Lufkin
Big-city fashion with small-town sensibilities.