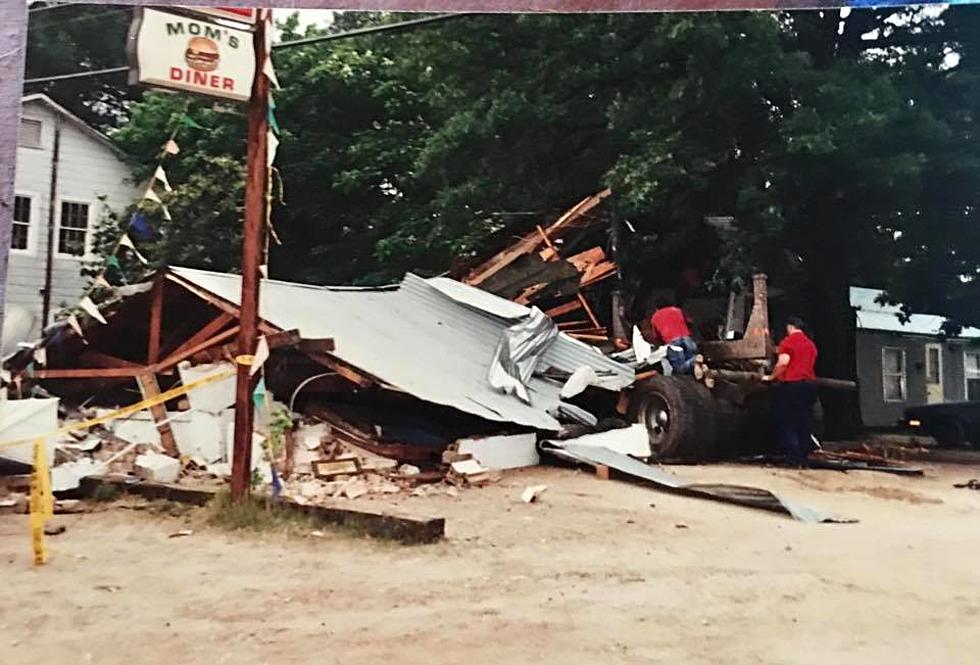 Mom's Diner Was Completely Destroyed By A Log Truck in 1995
Mom's Diner Archives
Mom's Diner is a Lufkin institution.  We all know that Mom's Diner had a different location 900 Frank Ave. closer to the hospital. They recently moved closer towards downtown Lufkin to 420 W.Frank Ave. But did you know that they had a third location?
The diner was first opened in December of 1986 by Bonnie Sue Hooper "Mom" Free as Mom's Diner. The first location was along HWY 103 East on almost the other side of town. The restaurant was on the opposite side of the road from the paper mill.
The events surrounding their first move are chilling. Mom was working at the restaurant 25 years ago May 12th 1995. The restaurant was unusually empty for a Friday afternoon and things went downhill from there.
An 18-Wheeler was doing a U-Turn on Hwy 103 and the driver of the log truck hit the corner of a truck that was turning around and went right through the building. Mom was hit by the truck and was pushed through a brick wall, pinned by a tree. One employee and one customer were also injured and were taken to a Houston Hospital via Life Flight. Luckily, there were no fatalities.
Mom was in the hospital for 8 weeks, and then with the help of employees, friends, and customers reopened on July 24th, 1995 at the 900 Frank Ave Location. Some would say that Mom was very lucky. She would have said she was not lucky, but truly blessed.
Mom passed away in 2017, also in the month of May. This is a testament to the strong woman she was and the values that have been passed down to her family, who continue to run the restaurant amid this coronavirus pandemic.
Mom established her business on a simple principle that we could really use right now: customer service utilized in a way that encourages friendships and lifetime bonds, while treating employees like family. The big restaurant companies of today with all of their layoffs could take a page from Mom's book. If Mom's Diner can survive this past destruction, they can survive anything that is happening now.