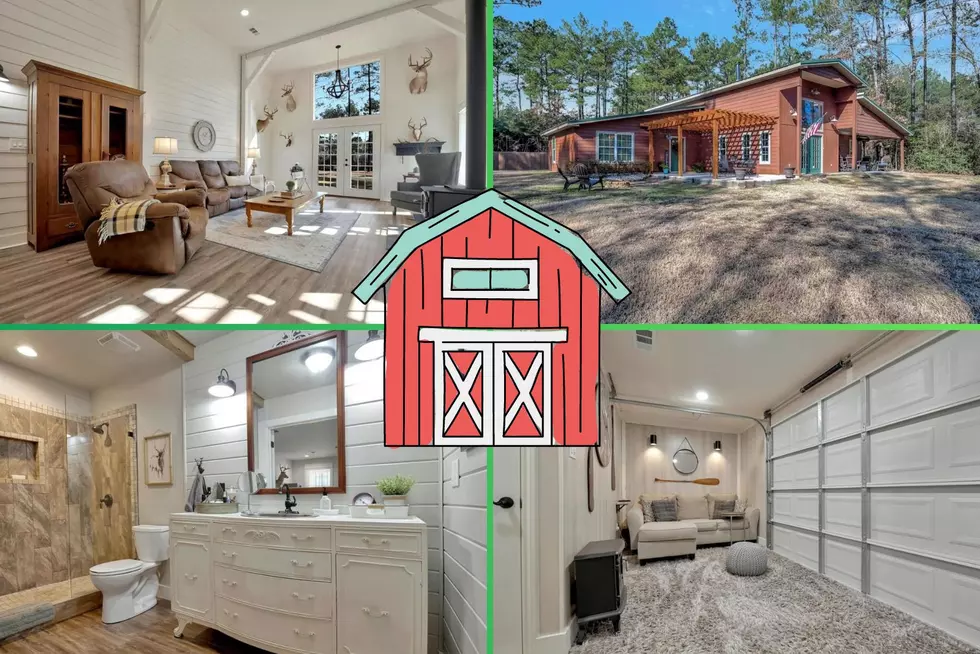 This Is What Cozy Farmhouse Vibes Look Like In Hudson, Texas
MLS#: 68242 Cindy Pierce Gann Medford 360 Media Of East Texas
If you were to start a vision board of your perfect design ideas for a modern farmhouse in the Lufkin area, most of the things in this house would be on it. This home is now for sale in the Hudson school district.
In Deep East Texas when your address only consists of numbers you know are in a secluded place. Located at 6585 FM 2497 in Lufkin, this homestead is well away from town.
Unlike some of the properties that we focus on this one doesn't have a million-dollar-plus price tag. This three-bedroom, two-bath on an acre is listed for $329,900.
Fulfill Your Farmhouse Dreams With Obtainable Luxury 
Rustic yet sleek interiors are the name of the game in this farmhouse built in 2018. The open concept has high ceilings and shiplap placed on featured walls throughout the house.
The kitchen is ready for business with all stainless appliances and a large walk-in pantry. One of the more interesting parts of the home is the flex space that has a large garage door opening.
It could be used as a media room or really anything you want. Outdoor living is covered with a porch, patio, fire pit, and covered parking for both of your vehicles.
Rustic Living With Neighbors In Hudson, Texas 
The home has a green metal roof and just blends into the treetops. You might feel like you are all alone out there, but there are plenty of homes in the area.
You never know when you might need a cup of sugar. Get inspired by this home in the gallery below.
Superior Cozy Farmhouse Vibes In Hudson, Texas
If you have been looking for a modern home, with a rustic appeal to dream about, this one has it all.
2023 Pines Theater Movie Lineup
The best thing about the Pines Theater is that the concessions and ticket prices are very reasonable. Tickets to these movies are only $5 and they are all on a Friday night at 7 PM.