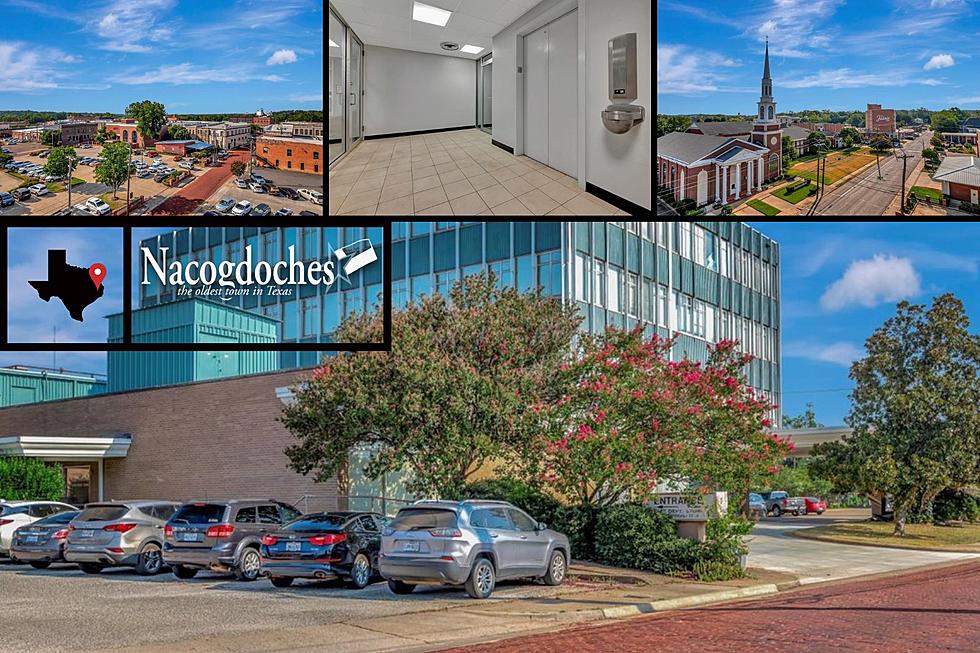 See Inside This Iconic Landmark For Sale In Nacogdoches, Texas
Jay Anderson CPRE Commerical MLS# 22300883
$2.8 Million Dollars
Lots of History
Iconic Mid-Century Design
If you were living in Nacogdoches, Texas in 1962 the opening of the Nacogdoches Savings and Loan Building was a grand affair. According to an article published on May 10, 1962 in the Daily Sentinel Of Nacogdoches, it was a four-day event.
There were specials in the adjacent Mize department store in every department. They even gave away a color TV, which was a very expensive luxury item at the time.
Before it was even opened, all the available spaces in the building were rented out. The tenants gave tours of their offices to the public during the event.
Vintage Office Building For Sale In Historic Downtown Nacogdoches
Construction was completed in 1961 and was overseen by the same architectural firm that designed the Fredonia Hotel. The award-winning curtain structure was novel for the time and changed the skyline in Nacogdoches forever.
According to CPRE Commercial, tasked with the sale of the building, it is currently the largest privately owned multi-story office building in Nacogdoches. It offers amazing views of the Fredonia Hotel and the brick streets of Downtown Nacogdoches.
The most critical part of any multi-story building of this size is the elevator system. The Otis Series 1 (1980's - 2005) elevator has been continuously maintained by the Otis/United/ThyssenKrupp for the entire 33-plus years that the seller has owned the property.
Historic Downtown Nacogdoches Building Undergoing Renovations 
The building is currently getting its second thorough renovation. They have already completed a new concrete parking area with full LED lighting, and a new roof is under construction.
Take a look around this 61-year-old building that helped turn Nacogdoches from a town into a city.
Nacogdoches Savings and Loan Building For Sale
This iconic building located at 118 Hospital Street in historic downtown Nacogdoches was first opened in 1962.
Main Street Makeovers In Downtown Nacogdoches
See three Nacogdoches Main Street grant recipients and what they did to make downtown pop!
12 Great Places To Dine Outdoors In Nacogdoches
Want some fresh air with your dining experience? Nacogdoches has a ton of options in every price range.